Today we observe Independence Day — the day our Founders signed the Declaration they had voted approval of two days prior, claiming for themselves and for us "certain unalienable Rights, that among these are Life, Liberty and the pursuit of Happiness."
This year, however, I think perhaps independence (and particularly personal independence) is overrated. Not unimportant, certainly, but not all-important. So I will observe the day — put out the flag, sing some patriotic songs, fire up the grill — but I doubt that I will celebrate it as eagerly, as deeply, as I once did.
(Before we go further, a reminder: This post is another in a series that has been a tribute to my late wife, Jill Rinehart, and a record of the grief I've struggled with since she died last October. The previous installment was on my birthday. All the entries so far are linked below.)
In the spirit of the day, here's a picture of Jill and me on the 4th of July in 2017, touring the Chickamauga Battlefield after a pleasant visit (and lunch!) at my boss's house: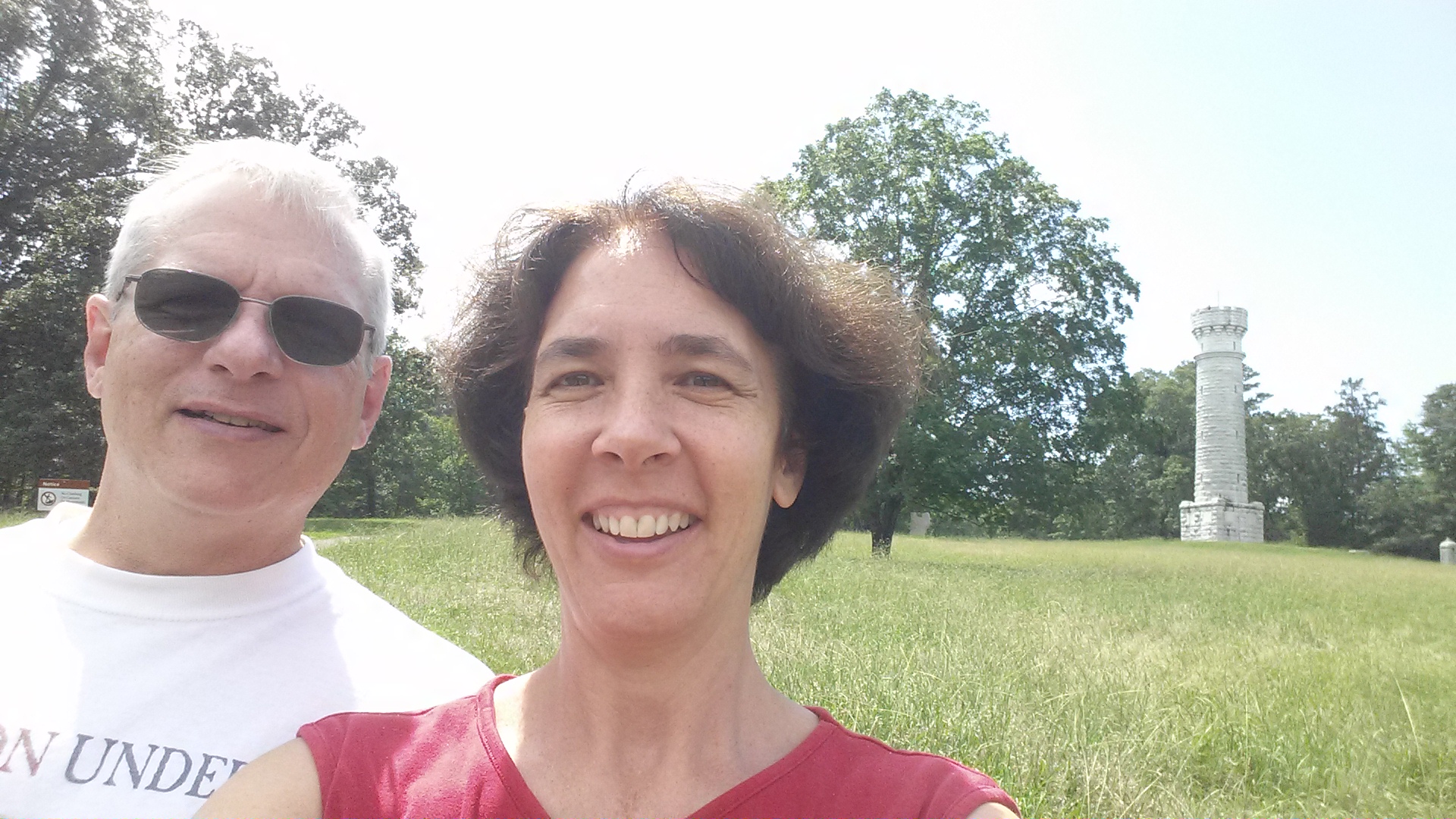 (With Jill at the Chickamauga Battlefield, 4 July 2017.)
Can you guess why I might think independence is overrated?
Because, having lost my life partner with whom I had spent over 34 years of marriage, I haven't found my resultant "independence" to be all that enriching. As Scripture says,
And the Lord God said, "It is not good for the human to be alone. I shall make him a sustainer beside him." (Genesis 2:18, translated by Robert Alter)
Better than independence, for me, was interdependence. Mutual support, mutual respect, individual freedom within the structure of our relationship. We were each independent to a certain degree: Jill had her teaching and her art and her plants, and I had my work and my writing and my music. But we also worked together as a team. We planned, set goals, and accomplished things together. And I miss our togetherness, our partnership.
As a result, finding myself personally independent has been a struggle. I suppose in some respect it's been frightening, but in a much deeper respect it's just been lonely. I've said before that I don't always like who I am without her, because she made me a better person — or, if she didn't exactly make me better, at least she inspired me to work to be better.
Speaking of being better: Before I close, will you permit me a brief digression in these politically tumultuous times? (If not, you can just skip the next paragraph.)
Our society is pretty fractured at the moment. I'm disappointed that we haven't been able to develop and sustain the kind of friendly, supportive social interdependence that a strong political union should manifest. Some people seem to believe that's become impossible. They may be right; but I hope for better. So with that in mind, let me say: Black lives do matter. If you are black, don't ever let anyone tell you differently. But, more to the point of personal independence and interdependence: Your life matters. You, reading these words right now. Your life matters. Not because you may be black or white or some shade in between; not because you're of the Zulu tribe or the Celtic tribe or the Navajo tribe; not because you are from the North or the South or the East or the West; but simply because you are unique in the world, a rarity in the boundless expanse of creation, made (so I believe) with the image of God stamped upon your soul. Your life matters — to me, at this moment. I wish that message would catch on, and that more people would feel comfortable sharing it.
In the end, I think it's important to maintain a degree of independence, but more important to cultivate interdependence with those we love and trust. It may be hard if there is little (or no) love or trust, and maybe those three things — love and interdependence and trust — are related and build on one another. That's probably a topic for another day.
For today, though, in keeping with the series theme, I regret any and every time that I have squandered love or trust — because they are difficult to regain.
And I wish you love and trust, and a high degree of interdependence that helps you be better than you might be otherwise. Because, I say again, your life matters.
___
Previously in the series:
– Unprepared for Regret
– Unprepared for Regret, Part II: Valentine's Day
– Unprepared for Regret, Part III: Jill's Last Day
– Unprepared for Regret, Part IV: The Day Jill Died
– Unprepared for Regret, Part V: Six Months Gone
– Unprepared for Regret, Part VI: Our Anniversary
– Unprepared for Regret, Part VII: Hollow Birthday to Me





by