Okay, some of them may be more like acquaintances, but it's still kind of surreal that I know people who are in the running for the awards.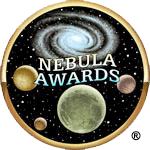 To explain: Last week the Science Fiction and Fantasy Writers of America announced the nominees for the 2012 Nebula Awards, as well as for the Ray Bradbury Award for Outstanding Dramatic Presentation and the Andre Norton Award for Young Adult Science Fiction and Fantasy. These are "industry" awards, in the same way that the Academy Awards are given within the movie industry, the Grammys within the music industry, etc. Among the nominees, I've marked my friends and acquaintances in bold:
Novel
Throne of the Crescent Moon, Saladin Ahmed (DAW; Gollancz '13)
Ironskin, Tina Connolly (Tor)
The Killing Moon, N.K. Jemisin (Orbit US; Orbit UK)
The Drowning Girl, Caitlín R. Kiernan (Roc)
Glamour in Glass, Mary Robinette Kowal (Tor)
2312, Kim Stanley Robinson (Orbit US; Orbit UK)
Novella
On a Red Station, Drifting, Aliette de Bodard (Immersion Press)
After the Fall, Before the Fall, During the Fall, Nancy Kress (Tachyon)
"The Stars Do Not Lie," Jay Lake (Asimov's 10-11/12)
"All the Flavors," Ken Liu (GigaNotoSaurus 2/1/12)
"Katabasis," Robert Reed (F&SF 11-12/12)
"Barry's Tale," Lawrence M. Schoen (Buffalito Buffet)
Novelette
"The Pyre of New Day," Catherine Asaro (The Mammoth Books of SF Wars)
"Close Encounters," Andy Duncan (The Pottawatomie Giant & Other Stories)
"The Waves," Ken Liu (Asimov's 12/12)
"The Finite Canvas," Brit Mandelo (Tor.com 12/5/12)
"Swift, Brutal Retaliation," Meghan McCarron (Tor.com 1/4/12)
"Portrait of Lisane da Patagnia," Rachel Swirsky (Tor.com 8/22/12)
"Fade to White," Catherynne M. Valente (Clarkesworld 8/12)
Short Story
"Robot," Helena Bell (Clarkesworld 9/12)
"Immersion," Aliette de Bodard (Clarkesworld 6/12)
"Fragmentation, or Ten Thousand Goodbyes," Tom Crosshill (Clarkesworld 4/12)
"Nanny's Day," Leah Cypess (Asimov's 3/12)
"Give Her Honey When You Hear Her Scream," Maria Dahvana Headley (Lightspeed 7/12)
"The Bookmaking Habits of Select Species," Ken Liu (Lightspeed 8/12)
"Five Ways to Fall in Love on Planet Porcelain," Cat Rambo (Near + Far)
Ray Bradbury Award for Outstanding Dramatic Presentation
The Avengers, Joss Whedon (director) and Joss Whedon and Zak Penn (writers), (Marvel/Disney)
Beasts of the Southern Wild, Benh Zeitlin (director), Benh Zeitlin and Lucy Abilar (writers), (Journeyman/Cinereach/Court 13/Fox Searchlight )
The Cabin in the Woods, Drew Goddard (director), Joss Whedon and Drew Goddard (writers) (Mutant Enemy/Lionsgate)
The Hunger Games, Gary Ross (director), Gary Ross, Suzanne Collins, and Billy Ray writers), (Lionsgate)
John Carter, Andrew Stanton (director), Michael Chabon, Mark Andrews, and Andrew Stanton (writers), (Disney)
Looper, Rian Johnson (director), Rian Johnson (writer), (FilmDistrict/TriStar)
(Yeah, I don't know any of those folks … although I do share a birthday with one of the writer/director types.)
Andre Norton Award for Young Adult Science Fiction and Fantasy
Iron Hearted Violet, Kelly Barnhill (Little, Brown)
Black Heart, Holly Black (S&S/McElderry; Gollancz)
Above, Leah Bobet (Levine)
The Diviners, Libba Bray (Little, Brown; Atom)
Vessel, Sarah Beth Durst (S&S/McElderry)
Seraphina, Rachel Hartman (Random House; Doubleday UK)
Enchanted, Alethea Kontis (Harcourt)
Every Day, David Levithan (Alice A. Knopf Books for Young Readers)
Summer of the Mariposas, Guadalupe Garcia McCall (Tu Books)
Railsea, China Miéville (Del Rey; Macmillan)
Fair Coin, E.C. Myers (Pyr)
Above World, Jenn Reese (Candlewick)
You can find links to some of the stories referenced above, available to read for free, in this SF Signal post.
Now I just need to decide for whom I wish to vote.
I'm pretty sure I can't make it to the awards ceremony, which will be in mid-May in San Jose. If you're interested — and you don't have to be a member of SFWA to attend — you can find more information about the Nebula Awards Weekend at http://www.sfwa.org/nebula-awards/nebula-weekend/.





by