President Trump has had so much success with "Make America Great Again" — which I never fully understood, since I was convinced that the USA was pretty great already, but which I have to admit is continually effective in how it drives some people beyond crazy — that I started thinking I might need a new slogan for my ongoing "Anti-Campaign."
(For those unfamiliar with the Anti-Candidate's Anti-Campaign, we offer two musical introductions: "I Think I'll Run for Congress" and "The Anti-Candidate Song".)
My first thought was to copy the "MAGA" formula exactly, and one early contender in that vein was "Make America Gray's Again" — but that seemed too "arrogant and megalomaniacal" even for me 😃. (If you're not sure about the "arrogant and megalomaniacal" references, you definitely need to listen to the musical introductions above.) Plus, it would need to be somewhat different so as not to confuse people too much.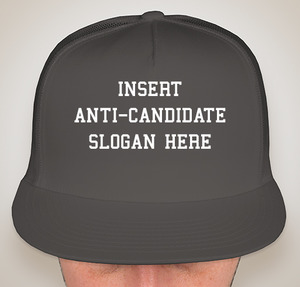 Anyway, following the "Make America [Something]" structure, we could have things like:
MABA — Make America Barbaric Again (for fans of Walt Whitman's "barbaric yawp" and the rough-and-tumble days of the frontier), though in some respects we've crossed that bridge and burned it behind us; alternately, Make America Brave Again might be more appropriate
MACA — Make America Confederate Again (since some progressives seem ready to ditch the current Constitution, maybe we should revert to the Articles of Confederation — or did you think I meant a different confederacy?), though it would probably be better to Make America Constitutional Again
MADA — Make America Disciples Again (for those of a missionary or Dominionist bent)
MAHA — Make America Harmonious Again (for the "I'd like to teach the world to sing" crowd)
MAMA — Make America Magnificent Again (maybe too close, thematically, to MAGA … wouldn't want any copyright infringement issues), but could also be Make America Megalomaniacal & Arrogant 😁
MANA — Make America Neutral Again (admit it: you thought it might say "nice" or "native" again, didn't you?)
MAPA — Make America Proud Again (since, as we learned a few years ago, some people don't have a lot of pride in the USA)
MARA — Make America Righteous Again (another one for the evangelicals, and particularly the fundamentalists)
MASA — Make America Serious Again (on second thought … naaah)
MATA — Make America Trustworthy Again (i.e., a country with integrity: the best friend and worst enemy another country could ever have)
None of those really fit the bill, though, do they? Maybe this is one reason why I wouldn't be very well-suited to politics.
I'm sure if I were at all serious about running for office, I would bring some smart people into a room and come up with something. But at the moment, if I were serious, I might just turn things around and have my campaign be about GAMA: Giving America Meaning Again.
What do I mean by that? Reminding us that the USA was "brought forth on this continent" for freedom, and that the steps we've been taking toward statist control are anathema to freedom. Reminding us what "life, liberty, and the pursuit of happiness" mean — and what they don't mean. Reminding us what government is supposed to do — and what it's not supposed to do. If, that is, anyone would ever want to listen to another voice crying in the wilderness.
So, if you were an adviser to the Anti-Candidate, or on the Anti-Campaign team, what would you suggest as a good slogan?
___
Don't forget: As noted here, I've been running a series of giveaways for Audible downloads of the Walking on the Sea of Clouds audiobook, and the last drawings will be held this Monday, the 15th of April. Sign up at this link!





by