Neither my wife nor I knew, four months ago today, that it would be the last day she would live.
By way of background, Jill was in decent physical shape — she was not ill or disabled or under long-term care for any protracted sickness — except for the effects of a leaky mitral valve in her heart. She had been diagnosed with mitral valve prolapse when she was twenty, and had been under the care of various cardiologists as we moved around as part of the Air Force. They had occasionally recommended having the valve replaced, but she had opted to monitor her condition in hopes that surgical techniques would improve over time. In fact, the latest surgical procedure would repair her valve rather than replacing it, and her cardiologist and the cardiac surgeon both agreed she was a good candidate. In the last few weeks before she died, Jill had had an echocardiogram and other tests to make sure that her heart was healthy enough to endure the surgery and recover from it. All indications were good.
On her last day — Friday, 18 October 2019 — Jill had her pre-surgery appointment. Her surgery was supposed to be on the following Wednesday (the 23rd), having been pushed back one day because of a higher priority case. Her pre-surgery workup had always been scheduled for the eighteenth.
I had gone with her to some of her prior appointments, like the echocardiogram, but she thought this one would be routine so instead I took care of our new puppy, Twix. She called me mid-morning, later sent me a text while she was waiting for her x-ray, and shortly thereafter sent, "I think I need to relax a little so I'm gonna take just a few minutes to walk at the art museum before heading home. I won't be too long."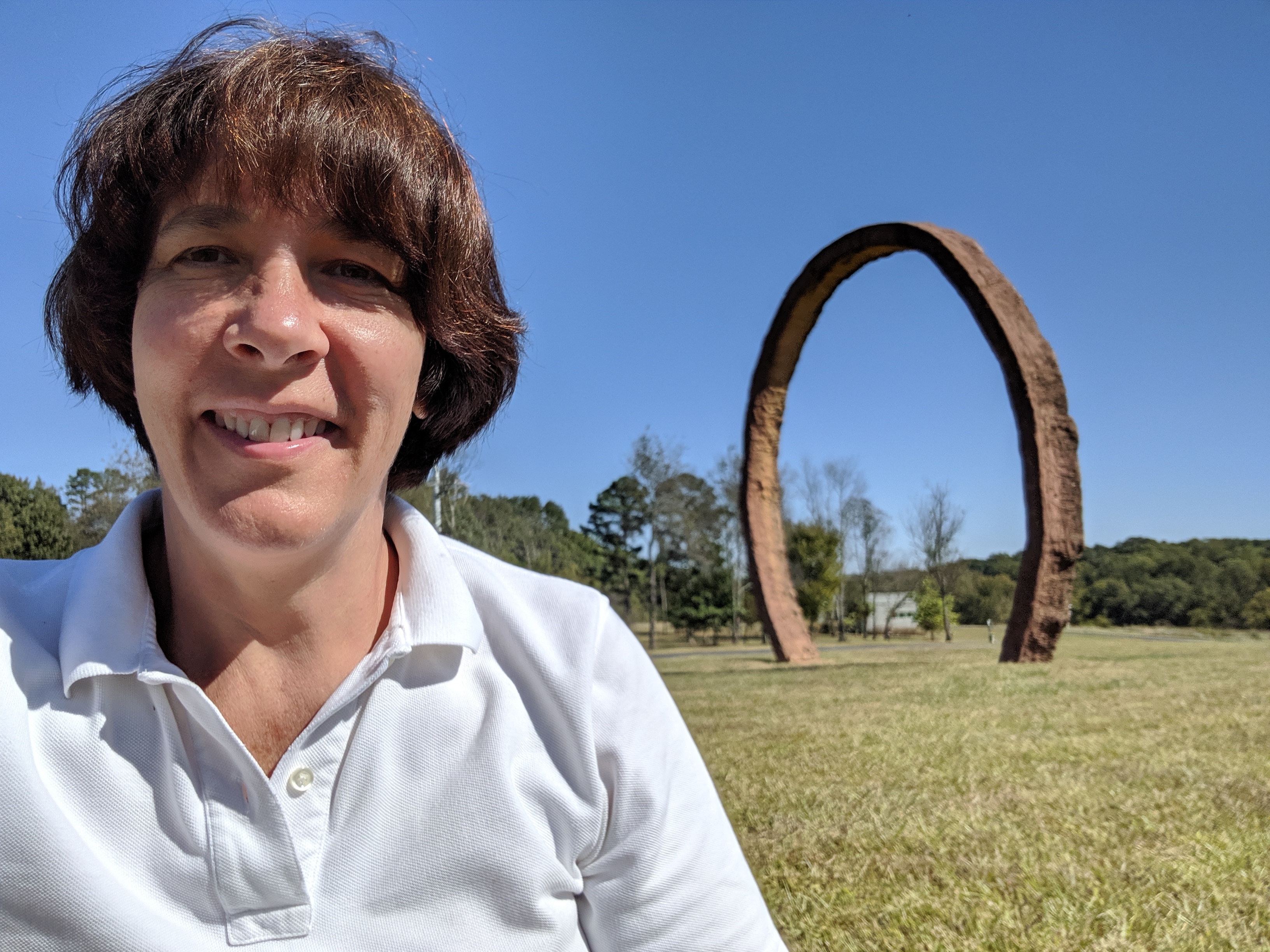 (Jill's last selfie, taken at the NC Art Museum on 18 October 2019.)
"If Anything Happens"
Jill got home about thirty minutes before we expected visitors from the church we were slated to join. She told me that she wished I had gone with her to the appointment because some of the things they said had frightened her — she might have said that they freaked her out, but I don't remember her exact words.
Our visitors were two gentlemen who came as more or less a formality before the Elders voted to accept us officially as members. Most of the interview went unremarkably, as we explained how each of us had come to faith and the degrees to which we'd been involved in previous churches — until Jill said something that arrested my attention.
She was sitting to my right on the couch, looking at one of the visitors to her right, so I couldn't see her face as she said, "The reason I want to do this now is so that if anything happens my obituary will say I was a member of the church. Because right now it wouldn't say that, and that's not me."
I had never heard her say anything like that before. I was too stupefied to question it.
Our Last Meal Together
The visit ended, and she and I decided to go out for an early supper — not only because neither of us felt like cooking but to see how well the puppy would do in the crate for an hour or so. We ended up at an "Asian fusion" restaurant that we had frequented for years, partly because it was close to the pharmacy where she would pick up the prescription she'd been given.
During dinner, she told me a little more about her appointment: the instructions she'd gotten, the briefings she had had about what it would be like to come out of anesthesia and wake up in ICU, etc. She was very nervous about the prospect of waking up with a breathing tube in her throat, and being hooked up to so many machines, and said that all she could picture in her mind was her mom a couple of years ago when she came out of surgery.
As we talked, Jill thanked me for not questioning her about her obituary comment while the church men were in the house. She said the thought had just come to her that day. Her mood shifted from time to time, from serious when talking about the procedure or the recovery to playful when she asked me if I was eyeballing her dumplings that she was going to take home as leftovers.
After supper, we walked over to the pharmacy and picked up her prescription and a couple of other things. At one point, as we walked around one of the endcaps, she reached out and tapped a deck of cards, looked behind her at me, and said with a grin, "We'll have to remember to take some cards to the hospital, so we can play something."
I agreed that we would certainly do that.
Our Last Walk in the Park
We went home, got the dog out of the crate and put him in the car, and drove over to Bond Park — one of our favorite places in the Town of Cary. We discussed briefly whether we would take the pup with us to breakfast the next day (we almost always went out for breakfast together on Saturdays) or try leaving him in the crate again.
Once we got to the park, we walked a path through the woods from the Boathouse, up past one of the shelters and around to the Community Center. We passed a few pieces of exercise equipment, and at one point came upon a balancing platform: a round disk held up by a sturdy spring. I held her hand as she stepped up on it, and she balanced there for a brief moment and then hopped off, laughing. Then, just to show off, I stepped up without reaching out for her. She chided me for that, but we laughed together as I struggled to step up and then step off without hurting myself.
From the Community Center, we walked parallel to the big field by the levee and then down toward the baseball fields. We stopped at one and watched part of an inning of a youth league game, and Jill wondered when our friend's son's next game would be, for us to go to it.
As we walked on, twilight was fading and we entered a more woodsy area. Jill asked me to shine the flashlight from my phone on the path in front of us. I made some remark about being able to see fine and she scolded me again, with something like, "Okay, if you want to step on a snake, go ahead." We laughed, but I did turn on the flashlight until the woods thinned out again.
The path took us to the base of the levee, and we walked up the steps until we could look at the lake. At the top, she asked if we could pause for a moment and slow down, because the steps always made her out of breath. I said of course we could, and we did — and I made some remark about how nice it would be once she had her surgery and wouldn't get out of breath when she was walking.
We eventually made our way down the length of the levee, back to the Boathouse, and home.
Our Last Evening
There wasn't much on television that Friday night, and Jill had an art class to teach the next day, so she went upstairs to her studio to work on example sculptures to show the children. When she was done, she took her bath and started getting ready for bed.
After I shut off everything downstairs, I went up to my office to check my email and found one from the assistant pastor saying the Elders had met and we were officially accepted as members. We would go through the formality of joining the church in the Sunday service. By then, Jill was finished with her bath and, as she did most every night, was watching a recorded episode of House Hunters International. I told her about the message, and we agreed that we would have to figure out how we were going to handle the pup Sunday morning.
I climbed in bed after I brushed my teeth, and — as I did every night — snuggled up with her a little bit while she fast-forwarded through a commercial. She told me that the medicine she'd gotten, which she'd applied around her nostrils as instructed, made her breath feel "hot." It bothered her, but it was supposed to be important so she was enduring it.
When the show was over, she said she was a little bit hungry and wanted a snack. But the puppy was asleep on the floor on her side of the bed, so instead of getting out that way she rolled over top of me. She lay on top of me for a second, and we smiled at each other, gave each other a hug and a kiss, and said goodnight. She got out on my side and turned off the light as she left.
That was the last time I saw her alive.
___
What regrets was I unprepared for about that day? First and foremost, that I didn't go to Jill's pre-surgery appointment with her. Yes, it would have required us to put the pup in "doggie daycare," but I wish I could have been there to hold her hand, to comfort her, as she listened to the doctors and nurses explaining what was in store.
Beyond that, I regret not having the presence of mind to suggest that we postpone the surgery, since she was so scared. Even if she refused the suggestion — and she probably would have, because she had been dealing with the effects of her condition for so long — I wish I had thought to make it.
But more than anything else, I regret not holding her closer and kissing her longer. We had no way of knowing, of course, that those would be our last hugs and kisses. We thought we would see each other in the morning, that we would go to breakfast, that she would teach her class, and that we would have more opportunities to talk and laugh and show each other that we cared. But we were wrong. We had probably said "I love you" two or three times that day — it was, thankfully, a common refrain in our lives — but I wish I had said it ten times as much, and hugged her tight every time.
___
P.S. If you're interested, you can read Jill's obituary here.
Previously in the Series:
– Unprepared for Regret
– Unprepared for Regret, Part II: Valentine's Day





by