Do you like music related to science fiction or fantasy? Then you can nominate your favorite songs for the annual Pegasus Awards for Excellence in Filking — which is, as you might guess, writing and performing music often related to SF&F and other nerdy, geeky topics.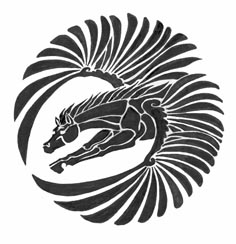 (Pegasus Award Logo.)
In case you're wondering, anyone who has an interest in filk is considered part of the "filk community" and can nominate candidates (and vote, later!). Since very few people make it to every convention or hear every performer, the award includes a "brainstorming" phase which wrapped up a few weeks ago; you can head to the brainstorming results for suggestions in each category.
What are the categories? The Pegasus Awards are given out in four permanent categories, as well as two categories which rotate from year-to-year:
Best Filk Song — any filk song that has not previously won a Pegasus
Best Classic Filk Song — any well-known filk song at least 10 years old that has "entered filk community public consciousness"
Best Performer — any filk performer who has not won this Pegasus in the past 5 years
Best Writer/Composer — any writer/composer of filk songs who has not won this Pegasus in the past 5 years
2017 Rotating Category: Best Horror Song — any song that "elicits horror"
2017 Rotating Category: Best Perky Song — kind of self-explanatory
If you have some favorites you'd like to nominate — and you can nominate up to five songs or people in each category — fill out the 2017 Pegasus Nominating Ballot. Nominations are open until the end of July.
Let your voice be heard, and have fun with it! (And let me know if you need some suggestions….)
___
If you're really not sure whether you're eligible to nominate, the award by-laws define "exhibiting interest" using examples such as filking at SF&F conventions, attending filk conventions or "house sings," taking part in related on-line forums, and just "discussing filk and filk related issues with other filkers." So, if you read this whole post, you can probably claim to have exhibited interest and therefore would be qualified to participate in the Pegasus Award process. (However, this is just barracks lawyering and does not constitute legal advice or any official rules determination.)





by