If you haven't already submitted your ideas for what songs, composers, and performers should be considered for the Pegasus Awards for excellence in filking, you have until early Friday morning to do so!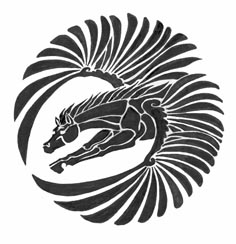 Unlike other awards, the Pegasus Award cycle begins with a wide-open "brainstorming" phase. (In this respect, the Hugo Awards may have something to learn from the Pegasus Awards; but, I digress.)
The Pegasus awards honor science fiction and fantasy-related music in these categories:
Best Filk Song
Best Classic Filk Song — a song at least 10 years old that has "entered filk community public consciousness"
Best Performer
Best Writer/Composer
2015 Rotating Category: Best Adapted Song — "parodies, pre-existing lyrics set to new music (for example, setting a Kipling poem), or other material adapted to filk"
2015 Rotating Category: Best Time-Related Song — "31st wedding anniversary gifts are timepieces. For OVFF's 31st Anniversary we focus on anything related to time"
Anyone who has an interest in filk music — which most people think of as science fiction and/or fantasy-related music — is considered part of the "filk community" and can participate in brainstorming possible nominees, nominating, and voting. The award by-laws define "exhibiting interest" using examples such as filking at SF&F conventions, attending filk conventions or "house sings," taking part in related on-line forums, and just "discussing filk and filk related issues with other filkers."
Speaking of "discussing filk and filk related issues with other filkers," last week on the Baen Free Radio Hour we released part 1 of a 2-part roundtable discussion about filk. Here's the link to an MP3 of the podcast. We'll release part 2 sometime in May.
All that being said, you can probably claim to have exhibited interest in filk just by reading this far in this post (for which, thank you!), and therefore would be qualified to participate in the Pegasus Award process. So if you have favorites you'd like to suggest, fill out the Brainstorming Poll Form. Note that there's only space for five suggestions in each category, but you're allowed to fill out as many brainstorming forms as you like. (I filled out two.) But you have to submit your suggestions soon — as in, today! The deadline is one minute after midnight tonight, Pacific Time, or around 3 a.m. tomorrow morning, Eastern Time.
The actual nomination phase to decide what goes on the ballot will start next month, when the brainstorming results are released, and then voting will take place later in the summer. Then the Pegasus Awards will be awarded at the Ohio Valley Filk Fest in October.
So … start your brainstorming! And finish it, quick!
___
Related Posts:
– The Pegasus Award Brainstorming Poll is Open!
– In Case You're Nominating for Any Awards This Year
– What Do YOU Think is the Best Adapted Filk Song?
– What Do YOU Think is the Best Time-Related Filk Song?





by