First in a series of blog posts about the songs on my new CD, Distorted Vision.
Since I'm currently a candidate for a real political office — the District "D" seat on the Cary (NC) Town Council — it seemed appropriate to start this series of posts by focusing on a political song. A disclaimer is in order, first: Nothing in this blog post should be construed as having anything to do with the office I am seeking, or with my actual campaign.
This is about the Anti-Campaign.
I've been unknown, and rarely sung, I'm an Anti-Candidate
And I'd serve in any office, in any district or any state
But I have a little problem, it's an introvert's disgrace
I'd rather rely on social media than to meet you face to face
I started the Anti-Campaign during the 2008 election cycle because the idea tickled me: I made myself available as a convenient write-in vote for any office, anywhere. It became a running gag, and now even has its own bumper sticker!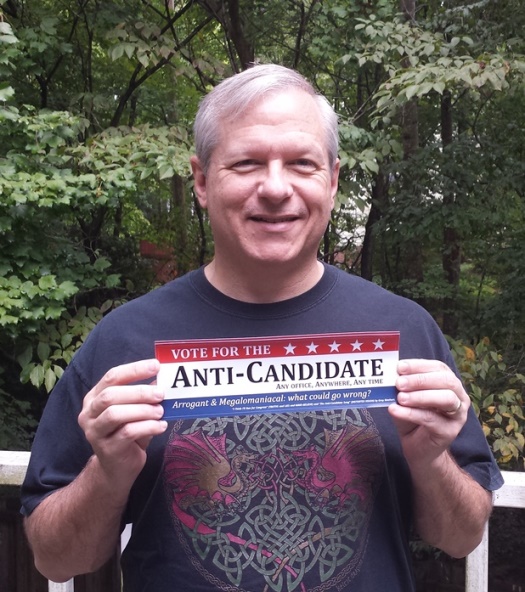 Bumper stickers are $2 each plus shipping and handling. Buy yours on my Bandcamp page.
And every campaign needs a theme song, right? Well, in this case the campaign has two.
The first Anti-Campaign theme song was "I Think I'll Run for Congress", which was on my 2013 album Truths and Lies and Make-Believe. "The Anti-Candidate Song" is something of a sequel, and like "I Think I'll Run for Congress" it pokes fun at politics and politicians.
"The Anti-Candidate Song" plays off two characteristics that the first song attributed to the candidate singing it: arrogance and megalomania. In the first song, I sing that politics
… fits my arrogant, megalomaniacal personality
and in this song I sing
I may be arrogant and megalomaniacal but it's just because I'm great
I leave it as an exercise to you to decide how much of that is true, and how much is the kind of convenient falsehood which career politicians seem to spin so easily. (And, if you will, how much of the Anti-Campaign as a whole infuses my real campaign.) But I will point out that if you look closely at the bumper sticker in the image above, you'll see it says, "Arrogant & Megalomaniacal: What could go wrong?"
In the end, even if you can't quite be sure whether I'm being serious or silly, I hope you find something to smile about when you listen to "The Anti-Candidate Song"!

___
Reminder: I'm playing a concert as part of the Dragon Con Filk Track, on Sunday the 6th of September at 4 p.m. in the Hyatt Regency's Baker Room. Come out and see me!





by