Two weeks ago, I had the pleasure of being a guest at ConGregate, one of the nicest small science fiction and fantasy conventions I've ever attended. I had a great time, as usual — testament to the great folks who put it all together!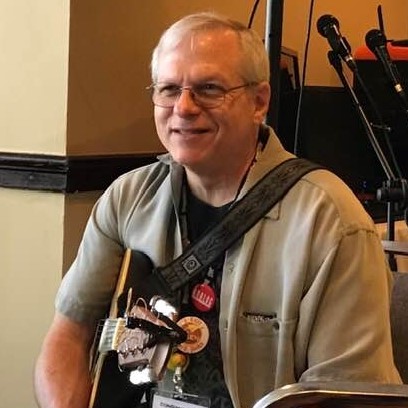 I should be singing, not just sitting around in the cantina! (Photo by Donna Smith Parker.)
And, just like at LibertyCon earlier, I learned a few things at ConGregate:
It feels great to hear people report that they enjoy Stephanie Minervino's performance narrating the Walking on the Sea of Clouds audiobook — and even better when I can watch their eyes light up as I tell them that she's my daughter, performing under her married name!
It feels pretty good to find out people are saying good things about your work even when you're not around to hear them. (In this case, a friend was recommending the aforementioned lunar colony novel on the strength of its portrayal of a wheelchair-bound character.)
I may be on to something with respect to the novel I'm writing now. I read the first chapter of it, to generally complimentary reactions (though I don't recall anyone at a reading ever being critical), but when I explained the general idea behind the story about half the room gasped and said, "Ooohhh." I'll take that as a good sign.
Recent research shows that centripetally induced gravity as low as 0.3g may be high enough to overcome some of the difficulties that people encounter in space (e.g., calcium loss, inner ear problems). Some earlier research took 0.8g as the minimum required, but when it comes to building any future rotating habitats 0.3g would be more attainable in the short term. (Hey, it shouldn't be any surprise that I'm interested in learning about space stuff!)
I really need to learn to play Jonah Knight's song, "King of Nebraska." Someone asked if I could play it during my set in the "ConGregate Cantina," and I had to disappoint them. So, that's one thing added to the "to do" list.
Loaning my guitar out to friends is one thing. Getting it back from them the next day is sometimes harder than anticipated.
Finally, just as at LibertyCon: Even though I criticize my own music and writing quite a bit, and generally find them lacking compared to my friends, folks genuinely seem to appreciate what I do. That feels pretty good.
The convention was not without its hiccups, but the ConGregate staff handled everything with good humor and general excellence! I'm very pleased that they let me participate, and I hope they'll let me come back again!





by