Thirty years ago today — July 11, 1979 — the nascent U.S. space station Skylab re-entered the atmosphere from its low orbit. It broke up and burned, but parts of it made it to the surface. The debris field began in the Indian Ocean and extended into Western Australia.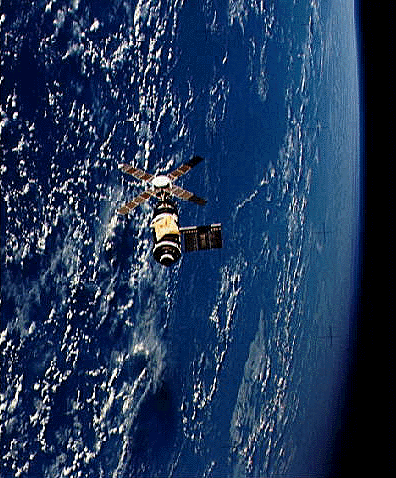 (Skylab in orbit, as seen by the Skylab-2 crew upon their departure. NASA photo.)
Three different crews had lived aboard Skylab while it operated, as detailed on NASA web pages here and here. I doubt that Skylab had much potential to be expanded into anything bigger, but it still seems as if falling from the sky was an ignominious end.
I wish I had a piece of Skylab, to go along with the piece of Titan-IV on my desk. Then I'd have some space hardware that fell from orbit, as well as some hardware fished up from the bottom of the ocean. That would be cool.
___
Related-but-still-shameless plug: Skylab is mentioned in my short story, "The Rocket Seamstress," which is available at Anthology Builder.





by