Last week we held a drawing for several copies of Walking On The Sea of Clouds — we organized a fun little "Facebook Live" event where three friends drew names out of an actual hat — and I announced the winners in my newsletter.* The prize packages will be on their way very soon, and here's a look at everything in the Grand Prize: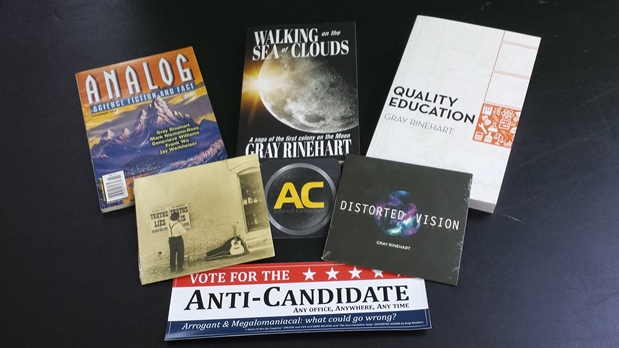 If you didn't win, you can of course pick up the novel on Amazon as an e-book or as a trade paperback. In addition to Amazon, it's also available on the Barnes & Noble website, on Kobo, on Smashwords, and a few other places as well.
You may prefer to support your local bookseller, and you can certainly get them to order a copy for you. Fair warning, though, whether ordering online or at a bookstore: the paperback is a bit pricey — turns out it's a pretty thick book!
If you like realistic science fiction, Walking On The Sea of Clouds might fit the bill for you — but don't just take my word for it! Among other testimonials I've posted now and then, these get the point across quite succinctly:
Everything about Walking on the Sea of Clouds feels amazingly authentic.
— Edmund R. Schubert

This is meat and potatoes for the hard science fiction fan.
— Martin L. Shoemaker
I hope you'll give it a try, and that something in it resonates with you! Let me know what you think — and if you like it, tell your friends!
___
*I try to share different things in my newsletter than I do here on the blog or over social media, so if you're not already getting it, I'd be pleased if you would sign up on my mailing list. At the very least, I think you'll find it to be more personal, and more conversational, than the blog. Plus, you get a free nonfiction e-book for signing up!





by