A couple of weeks ago, I talked with my daughter Stephanie about happiness, and I likened our capacity for happiness to a cup constantly filling and being drained. I suggested, however, that the cup of happiness from which we drink is, unfortunately and all too often, broken and leaking. Thus our capacity for happiness changes from time to time, most drastically with great losses or injuries or failures.
When we are young, after the initial shock of being separated from the warmth and leisure of the womb, our capacity for happiness seems almost boundless. Witness the innocent and all-consuming exuberance of a laughing child, and the difficulty we sometimes have as we grow older letting ourselves feel and express such joy. This is not to say that every child has the same capacity — it is almost certain that each of us has a cup of a slightly different size and shape, such that our capacities for happiness differ person-to-person — but in youth the cup seems more frequently to overflow.
As we grow, that cup of happiness which was so large and so easily filled gets damaged by life. Chipped. Cracked. Even shattered.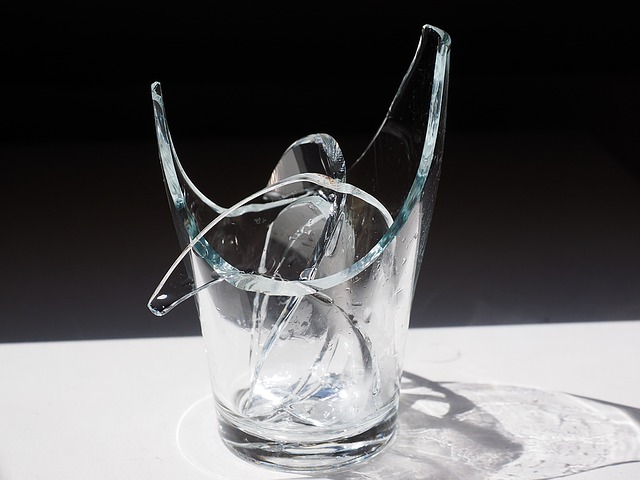 (Image by Hans Braxmeier, from Pixabay under Creative Commons.)
The greater the loss, the more grievous the injury, the worse the failure, the more damage our cup of happiness takes. Even if only chipped along the rim, every break means it cannot be filled as full as before — and those rough edges can cut our lips as we try to drink again. We may find ways to patch the holes or fill the cracks, through some gain or remedy or success, but if our cup of happiness has been badly broken it will rarely hold as much, as safely, as it did before.
And here's the point I made to Stephanie: Even though our capacity for happiness may be less, that cup can still be filled to its new capacity. Because of that, sometimes, almost miraculously, we find that we are simply as happy as we can possibly be — that we can still pursue things that fill our cup, drink it down and let it fill again, and live good and pleasant lives.
In my personal life, I look back on various things that chipped and cracked my cup of happiness. In the aftermath of Jill's death,* I might've said that my cup had been ground to dust. But I find now that my cup has been patched. Even though I wasn't sure it could or would ever happen, I've had times recently when my cup of happiness has been full — and I can look forward to its being filled again and again as time goes by. It may not hold as much today as it did a few years ago, but I can enjoy it to its new limit.
This metaphor implies something else, for those with eyes to see and ears to hear: specifically, that the people we meet carry cups of happiness that have been broken by troubles they've encountered in their own lives, troubles about which we may know little or nothing. And the things we do, with them and for them and to them, can mend their cups a bit … or damage them more, perhaps irreparably. Few of us know what wounds people have already sustained, what fractures and fissures mark their cups of happiness that we might carelessly reopen; fewer of us are emotional surgeons, who can injure intentionally in order to heal eventually; and very few of us indeed are psychological potters, able to present others with new, unbroken cups of happiness.
For my part, I am immensely grateful to everyone who has helped me mend my cup. And I am unfathomably sorry for every time I have damaged someone else's. May God forgive me.
___
*See my series, "Unprepared for Regret", which ended with Unprepared for Regret, Part X: Farewell, My Jillian





by