Dragon_Con 2014 was terrific! I'm sorry that it took me so long to put together this post about it. I'm also sorry that I'm not a better photographer with my phone … so I apologize that the pictures below are in general blurry and badly exposed.
This year's Dragon_Con had a number of highlights — including the fact that a few people I didn't know came to my solo concert! Overall, the convention turned out to be a musical tour de force. Mainstage groups like The Cruxshadows and Bella Morte get most of the attention, but thanks to the Dragon_Con Filk Track lesser-known groups like The Gekkos, The Ken Spivey Band, and Foot-Pound Force also got the chance to perform throughout the weekend.
Mikey Mason, the "comedy rock star" and "white trash geek," had a number of shows: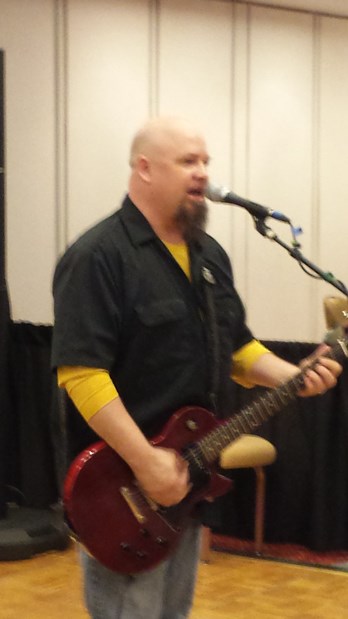 (Mikey Mason, performing on the Hyatt Concourse.)
The Blibbering Humdingers also had several shows, in addition to putting on a standing-room-only medieval music workshop: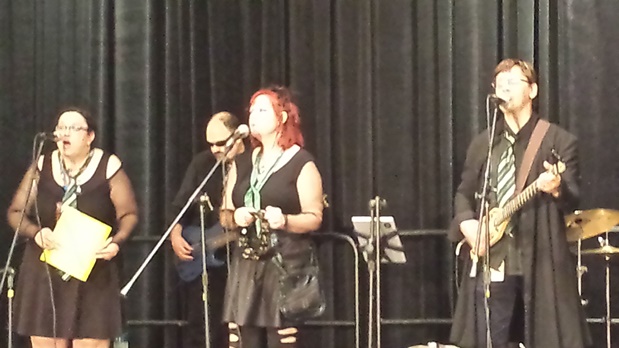 (The Blibbering Humdingers, and friends.)
One fantastic musical discovery of the convention was Pandora Celtica, who had been absent from Dragon_Con for a couple of years. I remembered catching snippets of their music before, but this time I was able to hear their marvelous harmonies several times.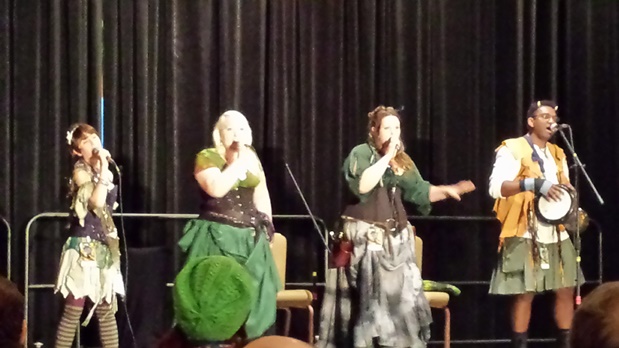 (Pandora Celtica.)
In addition to their "Dragon_Con reunion," the Brobdingnagian Bards — Andrew McKee and Marc Gunn — put on several solo concerts and workshops. Marc's "Firefly Drinking Songs" concert overflowed the room, with dozens of people standing in the hallway to listen!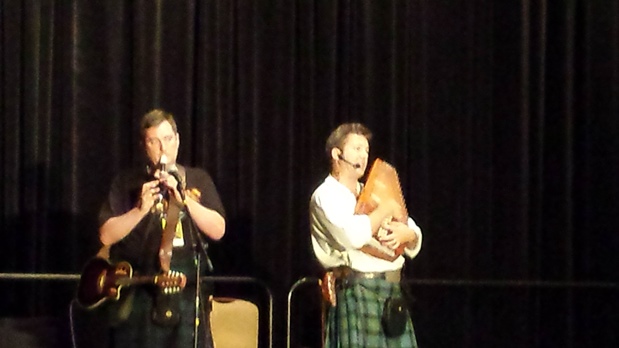 (The Brobdingnagian Bards. L-R, Andrew McKee and Marc Gunn.)
And Mikey Mason was paired with Tom Smith, "the world's fastest filker," for a comedy music duel: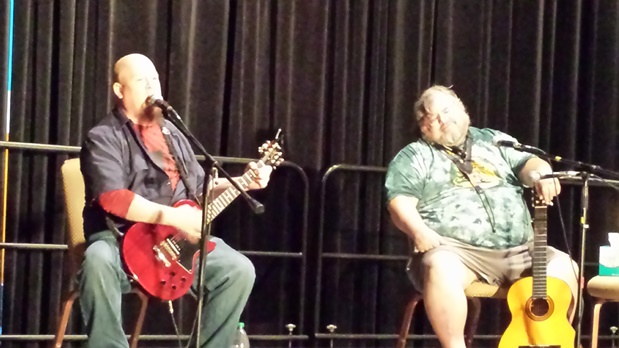 (Mikey Mason and Tom Smith.)
Last but not least, Tally Deushane played some of her delightful songs in the filk room (and also came to my concert!) — I didn't get the chance to ask her if she's been working on a new album.
So, while Dragon_Con is a crazy, loud, confusing, hectic event, from a musical standpoint it was terrific! My thanks go out to Robby Hilliard, Amber Hansford, and Pat Var for their enthusiasm and diligence in running the Filk Track, and especially for inviting me to participate at a higher level. I hope to make it back next year!
___
P.S. If you want more information on any of my musical friends, check out their websites:
– Andrew McKee
– Brobdingnagian Bards
– Foot-Pound Force
– Marc Gunn
– Mikey Mason
– Pandora Celtica
– Tally Deushane
– The Blibbering Humdingers
– The Gekkos
– The Ken Spivey Band
– Tom Smith





by