Yesterday, on my way home from the MystiCon science fiction and fantasy convention — which went very well — I came around a bend on I-40 and saw a car on fire, and a young man pulling items out of the vehicle.
I was the first person to pull over, and by the time I got out of my truck the little car was completely engulfed in flames. The young fellow had stopped trying to retrieve his belongings because the fire was too intense. I dialed 911 on my cell phone, but I couldn't pinpoint the location for the operator because the only nearby sign was obscured by trees. The driver was also on the phone with the dispatchers by that time, so I rang off.
In the next few minutes, two more cars had stopped to see if they could help. Thankfully, the young man was unhurt, but here's what his car looked like when it was all over: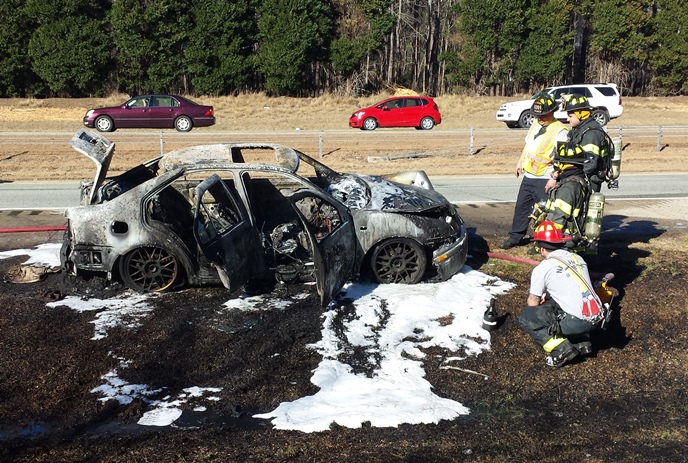 (Thankfully, the young man driving this car was not hurt when it caught fire.)
Turns out the driver was headed toward Raleigh in search of construction work. I offered to drive him into Raleigh — it wouldn't be that much out of my way, and seemed better than having the Highway Patrol drop him off at a gas station — but he couldn't raise any of his friends on the phone and they didn't respond immediately to his text messages. So he decided to head back to Pilot Mountain, where he had come from … and I agreed to take him. (I thought about buying him a bus ticket, but a quick search showed it would cost more for that in my money and his time than it would to drive him.)
When we got him and his few remaining things in the truck, I warned him that he'd have to listen to the "old man music" I had on CDs. He didn't seem to be bothered by that.
We made a quick pit stop, where he wouldn't let me buy him anything to eat or drink, then we headed west. I tried to make small talk, but between the turmoil of the event and still trying to reach his friends he wasn't very talkative. (I can relate to that, since I'm not usually very talkative either.) Then, as we were coming up on the outskirts of Greensboro, one of his friends finally called him on the phone.
They said they could come get him, but because they would be coming from the east side of Raleigh we turned around and headed back east. We talked about a number of different places he might tell them to meet him and finally agreed on a suitable spot. By the time we got there, we had listened to the first Hootie and the Blowfish CD, the first Kutless CD, and about a fourth of the Cruxshadows' Dreamcypher CD. He never commented on my eclectic taste.
When we stopped and unloaded, he offered to reimburse me for gas. Of course I refused and told him to pay it forward when he could. If I'd had more presence of mind, though, I would've found some sneaky way to slip a few dollars into his backpack for him to find later. I've kicked myself for missing that opportunity.
In the end, I made it home from the convention a few hours later than expected, but I made it home. I didn't mind the delay; as I told one of the state troopers, if one of my children were in that situation, I hope someone would offer them a ride, too. I just hope that young fellow finds his way to a good place, finds the construction job he wanted, and bounces back quickly from this temporary setback.





by