Twenty years ago today — May 18, 1991 — the first British astronaut flew into orbit aboard a Soyuz launch vehicle.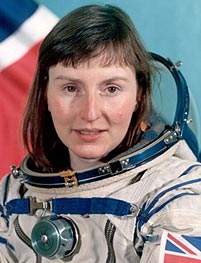 (Helen Sharman. NASA image from the UK Space Agency.)
Mission TM-12, crewed by cosmonauts Anatoli P. Artsebarsky and Sergei K. Krikalev and British astronaut Helen P. Sharman, launched from the Baikonur Cosmodrome en route to the Mir space station.
In addition to being the first Briton in space, Sharman was the first woman to visit Mir. She conducted biological experiments and contacted British schoolchildren via amateur radio during her week in space. She returned to earth with the crew of TM-11, the previous Mir occupants.





by