Hey, I'm running for Town Council!
Okay, you probably already knew that. If not, almost 2 weeks ago now I filed for election to the Cary (NC) Town Council in District D, which serves the southwest portion of town. If you're familiar with Cary, you could draw a big circle centered on Bond Lake and encompass a good portion of the district.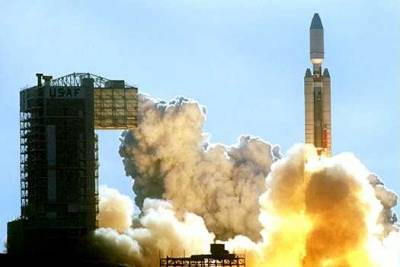 My first political campaign has launched! (USAF photo of a Titan-IV liftoff.)
When I filed, I was handed a booklet which explained the various forms I had to submit in order to establish a campaign committee. That took me by surprise, because I'm just one fellow and don't have any kind of organization, but it was required in order to have something to print on the bottom of ads, along the lines of "Paid for by the Committee of People Who Think They Know Better." So I did it.
Of course, being me, with my history of Anti-Candidacy and my contrarian nature, I was determined not to establish the run-of-the-mill candidate's committee. No "Gray for Town Council" or "Committee to Elect Gray" or anything like that. I tried out a number of different possible committee names, including but definitely not limited to:
Folks Who Don't Want to Run Your Life
The Mugwump Brigade
Arrogant Megalomaniacs for Hire
Reluctant Bureaucrats
Step by Step to World Domination
The Bearers of Dangerous Messages
The Artist Formerly Known as the Anti-Candidate
But, as was pointed out to me by several people, being too unserious about the whole thing would not be to my benefit. So, I swallowed my pride, tamped down my forced attempts at silliness, thought about the things I bring to the table — specifically, years of Service, experience in Leadership, and a bit of Creativity. So I named my committee The Gray Man: Service, Leadership, Creativity.
At the same time I turned in the committee organization forms, I had to turn in the first round of financial reporting forms. Those were a bit harder to make heads and tails of, and it seemed a bit extreme to have to file several different pieces of paper in order to report spending $10 so far (i.e., the filing fee — I dropped the dollar I spent on parking because I hadn't gotten a receipt), but I got the forms turned in. I haven't heard yet if I did them right.
While all that was going on, I started getting phone calls and letters and junk mail related to my own campaign. The phone calls were okay — mostly other candidates, plus one fellow who asked if he could send me a survey for his organization to gauge my position on the particular issues that interest them. I've gotten a couple of letters along the same lines, which I'll report on as time goes by.
But the junk mail … oh, goodness.
I should've expected it, but honestly I hadn't. First was an invitation to a "campaign training session," which promised — for a fee, of course — to help me strategize and plan and raise money and other such things. I tossed that right out, since my strategy is to emphasize things I know about and have experience in (more on this in a future post), my plan is to talk to folks and find out what issues they most care about, and I don't intend to raise any money. Nor do I intend to spend much money, which is why I haven't responded to most of the other letters I received from people who want to help me stratify the voter rolls and send out mass mailings, or who want to print handouts and other materials for me, or the people who want to make yard signs for me. I don't intend to spend my own or anyone else's money on things like that.
Plus, with 10 weeks until the election — the Cary municipal election is on 6 October, so there can be a runoff in November if needed — nobody's paying much attention yet anyway.
As we get closer to election day, I'll suggest ways that you might help me spread the word to folks who might want to vote for me — for instance, by sharing this blog post on social media or by sending the link to a friend who lives in the Research Triangle! Meanwhile, you're welcome to sign up for my newsletter using the form in the right sidebar; I send out occasional notices about my various projects, of which the election is only one. And you can always check out the election page on my website.
As for me, I'm going to have fun with the process — because as I always told my students and folks who worked for me, if you're not having fun doing what you're doing, you ought to be doing something else!
So, thanks for reading this and now, go have some fun!
___
This blog post was "paid" for, at the princely sum of $0 and whatever time it took Gray to write and upload it, by The Gray Man: Service, Leadership, Creativity.





by