Sixth in a series of blog posts about the songs on my new CD, Distorted Vision.
If you don't know who the Browncoats are … well, you will after reading this post.
My brave lad sleeps in his faded coat of brown.
In a lonely grave unknown lies a heart of love renowned.
He sank faint and hungry among the famished brave,
And they laid him sad and lonely within his nameless grave.
In the future envisioned in the TV show Firefly and its follow-on movie Serenity, the Union of Allied Planets ("the Alliance") fought a civil war — and in some ways a war of pacification — against the independence movement that came to be identified with the brown coats its members wore. The captain of Serenity, Malcolm Reynolds, fought with the Independents along with his first mate Zoe, and they both maintain a fierce independent streak throughout the show.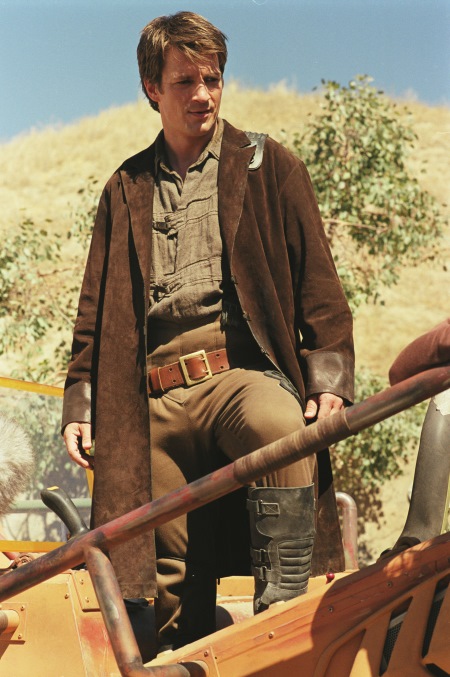 The most famous Browncoat of all, Malcolm Reynolds (Nathan Fillion). Image from The Firefly and Serenity Database.
The idea for this song came from outside of Firefly, however, because it's an adaptation of an 1865 song called "The Faded Coat of Blue" — a song that evokes the anguish of a parent whose son never returned from the Civil War. I don't recall when I first had the notion of changing every "blue" in the original song to "brown" (which necessitated changing all of the accompanying rhymes) but it seemed as if it would make a fitting tribute. And not only a fitting tribute, but that it could make sense in the context of the Firefly milieu.
One aspect of the future that crept into different episodes of the series is the recollection of "Earth that was" — the past planetary home from which humanity spread out. It seemed to me that some of the music of the distant past might survive, and that some resistance fighter might adopt an old song to reflect the struggles and sacrifices of a new war. And I thought it might not matter that the original song was written about a Union soldier rather than a Rebel, because the sacrifices are similar on both sides.
No more the bugle calls the weary one.
Rest, noble spirit, in thy grave unknown.
I'll find you and know you when the final trumpet sounds
And a robe of white is given for the faded coat of brown.
I hope I maintained the poignancy of the original, even as I adapted it to the fictional universe of Firefly. You can decide for yourself if you listen to "The Faded Coat of Brown". I hope you like it.
___
One last note: Many Browncoat fan groups around the country sponsor showings of Serenity and other events to raise money for charity. I hope they like the song, too!





by