Ladies and gentlemen, the Walking on the Sea of Clouds audiobook is complete and available for your listening pleasure! You can score a copy direct from Audible or, if you prefer, from Amazon.
As pleased as I am to announce that the novel is in audio format, I'm even happier to announce that the voice actress who narrates it is … my daughter, Stephanie! (Surprise!)
Stephanie auditioned under her married name (Minervino), so the folks at WordFire Press didn't realize who she was when they forwarded her audition to me. They agreed she was the best choice and worked with her through the production process long before we ever let on that we were related. (Sneaky, I know.)
If you click through to the Audible website, you can listen to a sample. And while I admit that I may be a little biased, I think she did a fine job. It wasn't easy, with so many different accents among the characters, but she managed to give each character a unique voice!
And not only that: Stephanie did a great job portraying the emotional depth of the story, and actually added to the emotional depth of some scenes. She made me very proud! I just wish her name was a little bigger on the cover: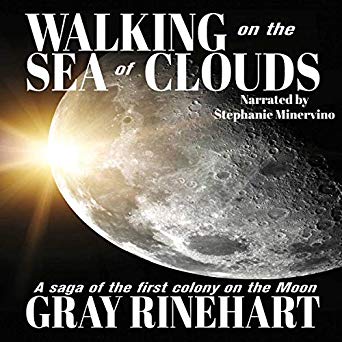 I hope you'll check out this audio version of Walking on the Sea of Clouds, and if you know someone who prefers audio to print I hope you'll let them know about it. In case you're still unsure whether the story might be worth your while, here's what some folks had to say:
"[As] entertaining as some of Heinlein's early fiction…. closer to the type of fiction Jerry Pournelle wrote…. captures a pioneering era that once was and could be again."
—Ad Astra
"Much like The Martian, Walking on the Sea of Clouds puts you on a lifeless rock and makes you think about why we explore new frontiers even as it explains how it can be done."
—Booklist
"If you've ever wanted to be a colonist on the moon, this is as close as you will ever get without going there yourself."
—Abyss & Apex
"Annoyed you haven't been to the Moon yet? Then pick up Walking on the Sea of Clouds; you'll feel like you're there."
–Charles E. Gannon
"Everything about Walking on the Sea of Clouds feels amazingly authentic."
–Edmund R. Schubert
"This is meat and potatoes for the hard science fiction fan."
–Martin L. Shoemaker
"This book will be treasured by anyone who has ever dreamt of visiting the Moon, walking on another world, or bathing beneath the light of a distant star."
–David Farland
Spread the word! And if you give it a listen, I'd love to know what you think!





by