Hey, I was as shocked as anybody when I saw the headline, but according to Screen Rant, Brad Pitt has signed on to play The Gray Man.
It turns out, contrary to what you may have heard, thought, dreamed, or laughed at, The Gray Man is not about yours truly or even my Pawley's Island-based alter ego, but is the title character of the 2009 bestselling thriller The Gray Man by Mark Greaney. I think if I'd ever seen that book I would've bought it just for the title — it's a shame I haven't heard about it before now.*
However, lest anyone think that I'm just trying to jump on the "Gray Man" bandwagon at the last minute,** here's yours truly speaking at his 2006 USAF retirement ceremony: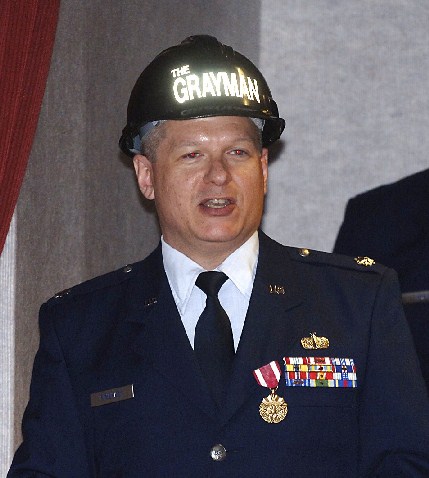 (The Gray Man Speaks. The hard hat lettering was done by then-TSgt Steve Clay while we were stationed at Offutt AFB, 1998-2000. USAF photo.)
Even if it's not about me,*** I wish them the best of luck.
But I think they should fill the cast and crew with people named "Gray," and people who are related to me.
___
*Especially since I've been trying to figure out a Gray Man-themed series of my own since Dragon*Con 2007.
**On the contrary, I'm on my own bandwagon which will happily follow along with theirs for a while.
***As I keep reminding myself, per the first line of Rick Warren's The Purpose-Driven Life.





by