(This post should be the next-to-last in the tribute series to my late wife, Jill Rinehart. I plan to close this record of the grief I've struggled with, on the anniversary of her death: 19 October. All the entries so far are linked at the bottom, if you'd like to read through them.)
A year ago yesterday, I took the pup on a walk. Twix and I walked down part of the Cary greenway system I'd never been on before, and some possible song lyrics came to me. I remember crying a bit as I sang them, but by the time I fished my phone out of my pocket to record them I no longer had the words quite right. What I thought of as the chorus, pieced together from the snippets I recalled, went something like,
"And I apologize for every time I've hurt you or done you wrong
And I know I can't make up for them in this simple song
Things I wish I'd done differently come upon me like a curse
All the times I hurt you, the embarrassments and worse"
Obviously it would need a lot of work to get it to scan better and take out the repetition, but as noted, I know it's not what came to me at first. At the time, I actually dictated, "It is very difficult to remember what I said before, especially when the dog wants to keep walking."
I don't remember now what I was thinking about, and I never showed those notes to Jill. I don't know which I regret more, but clearly even before she died I regretted having caused her any trouble.
But that was a year ago yesterday.
Today is the first day of autumn. The autumnal equinox. Daylight and night are equal, at the equator. Things are supposed to balanced.
But they're not all that balanced for me. Not quite yet. As this graphic, shared by a friend on Facebook recently, shows, widowhood is not exactly known for inspiring balance in our lives: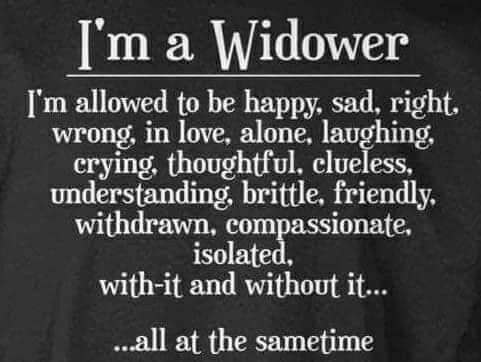 (I'm not sure who made this "I'm a Widower" image, but it gets the point across even with the editorial mistakes.)
But I have hope that balance will be restored.
The title of this entry comes from my favorite song from Jeff Wayne's musical version of The War of the Worlds. "Forever Autumn" was sung by Justin Hayward (of one of my favorite bands, The Moody Blues). And when Jill died last October, as autumn was reaching its crescendo here in North Carolina, I thought it was both poignant and fitting:
"The summer sun is fading as the year grows old,
And darker days are drawing near,
The winter winds will be much colder,
Now you're not here."
And many times in the past eleven months I thought it might even be prophetic:
"A gentle rain falls softly on my weary eyes
As if to hide a lonely tear
My life will be forever autumn,
'Cause you're not here"
If you had asked me in the early days after she died, I would have said my life truly would be forever autumn without Jill — or that if it ever proceeded into winter it would be "always winter but never Christmas" (as Narnia was for a time in C.S. Lewis's The Lion, the Witch, and the Wardrobe).
I don't feel that way so much anymore, and at times I regret it. At times I think I should carry that torch a little higher, for a little longer — but it's a dreadful thing, and I've been grateful to be able to put it down, even for a little while.
In many ways I feel as if my heart and my life have been pieced back together haphazardly: the shape is about right, but there are gaps, missing pieces. Some of the pieces might be around here somewhere — in a drawer, in a coat pocket, in a long-unopened box — but I fear that some of them have been pounded to dust underfoot, or by the weight of failure, or in the grinding gears of doubt. Would that the cracks might be filled with gold, like Japanese "kintsugi" or "kintsukuroi" pottery, but I'll be lucky to fill them with plain red clay.
I need the cracks in my heart to be filled, though, and I have begun to do so, which is why I put a question mark in the title of this entry. People like you have been instrumental in helping, with a piece here or a bit of filler there, including one special person who has helped me see that my broken-but-mending heart may be whole enough to love again. So I don't feel quite so strongly anymore that "my life will be forever autumn" because Jill is gone.
I still have a ways to go (as we say in the South), and autumn will still turn into winter, but I have hope that winter will eventually turn to spring again — and that I will welcome it instead of regretting it.
Thank you for all you've done to help me along.
___
Previously in the series:
– Unprepared for Regret
– Unprepared for Regret, Part II: Valentine's Day
– Unprepared for Regret, Part III: Jill's Last Day
– Unprepared for Regret, Part IV: The Day Jill Died
– Unprepared for Regret, Part V: Six Months Gone
– Unprepared for Regret, Part VI: Our Anniversary
– Unprepared for Regret, Part VII: Hollow Birthday to Me
– Unprepared for Regret, Part VIII: Independence is Overrated
P.S. If you're interested, you can read Jill's obituary here.





by