… although I was supposed to be.
I had been in the Pentagon on September 10, 2001, after all, and was scheduled to go back the next day.
I'd spent part of September 10 in the Secretary of Defense Executive Support Center, monitoring the progress of a strategic command & control exercise. My presence there was strictly ancillary: I'd recently rotated back from my assignment at Thule Air Base, Greenland, and my training at the Defense Technology Security Administration had not started, so I was tagging along with friends and checking on what my old unit at Offutt AFB was doing.
On the morning of September 11, I reported first to DTSA — in our quiet civilian office building in Alexandria — and told them I was headed back to the Pentagon to monitor the exercise for another day. No, they said, you can't go over this morning because you have an in-processing appointment to meet the Colonel upstairs.
So I didn't go to the Pentagon that day. Instead, I saw the events unfold on a fuzzy TV picture (one of our engineers had jury-rigged an antenna onto a TV that was usually used only for showing videos). When I went to my appointment upstairs, I stood at the window and looked at the column of smoke rising above the hill to the north of our building.
I was several miles and seemingly several worlds away from what was happening.
Trouble was, my wife knew I was supposed to be in the Pentagon … and I didn't call home for several hours. (In some respects, I'm still apologizing for that oversight.) Not that much would've changed for me, had I been in the building. I would've evacuated with everyone else, and from my friend's reports they weren't even in a good position to be of much help. So, not much of a 9/11 story from me.
Almost five years later, when time came for me to retire, we held my retirement ceremony in the 9/11 Memorial Chapel.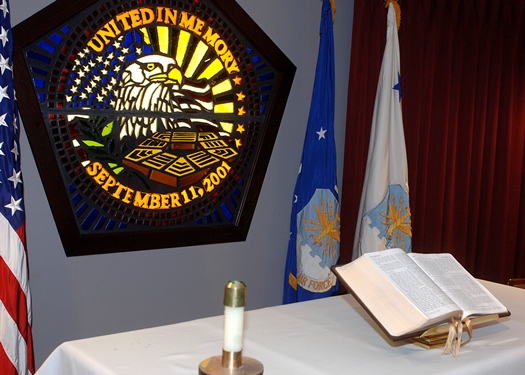 (Stained glass and altar in the Pentagon's 9/11 Memorial Chapel.)
Knowing what that part of the building had gone through, and what that room meant, made my retirement rather poignant.





by