Announcing Edmund R. Schubert's first novel, DREAMING CREEK, now available from Amazon.com.
High school teacher Danny Wakeman has spent sixteen years believing that his childhood friend, Marcus Gaines, saved his life after an accident. But Danny's perspective on the world gets turned inside-out when he and the woman he wants to marry, Sara McBride, drink from the mystical waters of Dreaming Creek, trade bodies, and get stuck that way… Trapped in each others' bodies, struggling to fit in to each others' lives, Danny and Sara will have to pull together to overcome a perplexing lawsuit, a plot to defraud Danny out of his recently deceased parent's farm, and an attempted rape—all of which ultimately prove to bear Marcus's sinister fingerprints. And before it's over, Danny will discover that this pattern of treachery and violence goes all the way back to his supposed accident, which Marcus designed to cover up an even blacker secret…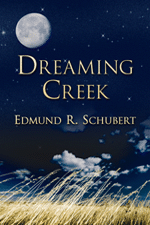 Who is Edmund Schubert, and why am I plugging his novel? That's simple:
Edmund R. Schubert is the award-winning author of over thirty short stories, having been published in magazines and anthologies in the U.S., Canada, and Great Britain. In addition to writing, Schubert has held a range of editorial positions, including serving as fiction editor of the online magazine, Orson Scott Card's InterGalactic Medicine Show. An anthology of IGMS stories, co-edited by Schubert and Card, was published by Tor (August, 2008).
In the interest of full disclosure, Ed Schubert is also one of my buddies from Orson Scott Card's 2004 Literary Boot Camp, and he let me read parts of DREAMING CREEK as he got them ready for his publisher. And, in my not-so-humble opinion, it's very well done.
DREAMING CREEK can be ordered from Amazon, as mentioned, or directly from the publisher, LBF Books.





by