First up: 45 years ago today — January 22, 1968 — a Saturn 1B launched the unmanned Apollo 5 mission from Cape Canaveral.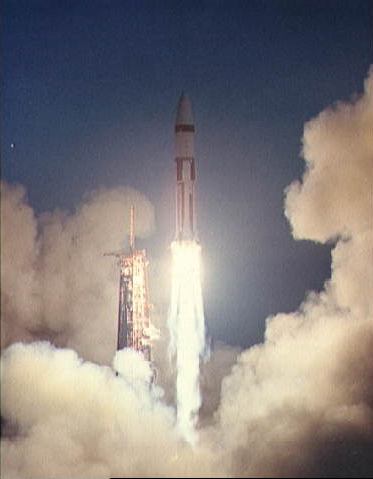 (Apollo 5 launch. NASA image.)
Apollo 5 was the first test flight of the Lunar Module (LM) ascent and descent stages. Once the LM was released into Earth orbit, its engines were fired in sequences that simulated a lunar approach and landing, including an abort scenario. Despite one premature shutdown of the descent propulsion system, the overall mission was considered a success.
Thirty years later — 15 years ago today — the Space Shuttle Endeavour launched from the Kennedy Space Center on mission STS-89. US astronauts Terrence W. Wilcutt, Joe F. Edwards, Jr., James F. Reilly, Michael P. Anderson, Bonnie J. Dunbar, and Andrew S.W. Thomas, along with Russian cosmonaut Salizhan S.Sharipov, docked with the Mir space station where Thomas replaced astronaut David Wolf.
Finally, on this date 10 years ago, we received the last signal from the Pioneer 10 spacecraft. On its 30-year mission (far exceeding its 21-month design life), Pioneer 10 visited Jupiter and explored the outer solar system. At the time of its last contact, the spacecraft "was 7.6 billion miles from Earth, or 82 times the nominal distance between the Sun and the Earth," cruising in the general direction of Aldebaran.





by