A half-century ago today — May 24, 1962 — astronaut M. Scott Carpenter became the second American to orbit the Earth when he launched from Cape Canaveral.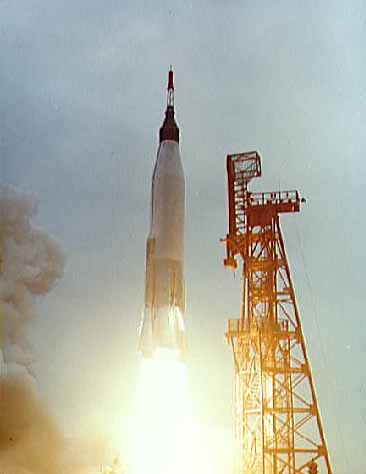 (Mercury Atlas 7 launch. NASA image.)
Mercury Atlas 7, also known as Aurora 7, carried Carpenter on three orbits before returning him to splash down in the Atlantic Ocean.
During the mission, Carpenter solved a mystery that had occurred on John Glenn's earlier spaceflight. Glenn reported seeing what he described as "fire flies," and Carpenter reported the same thing after he "accidentally tapped the wall of the spacecraft with his hand." This led analysts to conclude that the "fire flies" were particles of frost dislodged from the reaction control system.
Interestingly,
The pilot was originally planned to be Donald K. Slayton but was changed to be M. Scott Carpenter after a medical examination of Slayton revealed an irregularity in his heartbeat.
"Deke" Slayton is an important historical figure in my alternate history story, "Memorial at Copernicus", from the August 2010 issue of Redstone Science Fiction. You can listen to the story here, if you like.





by