Forty years ago today — November 14, 1969 — astronauts Charles Conrad, Jr., Alan L. Bean, and Richard F. Gordon, Jr., blasted off atop Saturn V rocket SA-507 on Apollo-12, the second lunar landing mission. President Richard Nixon attended, and became the first U.S. President to attend a launch.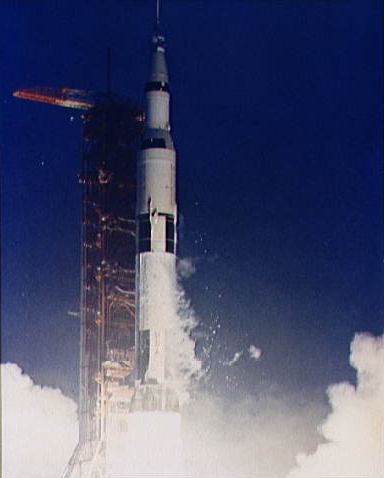 (Apollo-12 launch. NASA image.)
On the ascent, the Saturn V was hit by lightning while it passed through a low cloud. This was the first such event in the program; the electrical discharge passed through the Saturn vehicle to the ground. After NASA confirmed the lightning had done no damage, the crew proceeded to the Moon.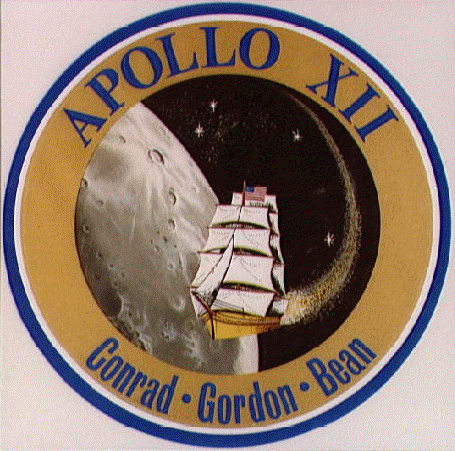 (Apollo-12 mission logo. NASA image.)
While Gordon orbited in the Command Module "Yankee Clipper," Conrad and Bean descended to the lunar surface on the 19th of November in the Lunar Module "Intrepid." They landed on Oceanus Procellarum, the "Ocean of Storms," and began their excursions. The mission included several milestones:
First time the surface crew went out on two EVA periods.
Apollo Lunar Surface Experiments Package (ALSEP) deployed for the first time.
First time a geologist planned lunar surface activities in real time.
First-ever return of spacecraft parts from the lunar surface: from the Surveyor-3 lander.
First multi-spectral imagery of lunar terrain from lunar orbit.
That was then, and this is now: If you didn't catch the news from NASA yesterday, the recent LCROSS mission confirmed the presence of water in the shadowed crater Cabeus at the Moon's south pole. This is great news for future lunar exploration — and for those of us who have written stories about lunar exploration!





by