Twenty years ago today — September 25, 1992 — a Titan-III rocket out of Cape Canaveral launched the Mars Observer. The launch was uneventful and the spacecraft's journey to Mars was nominal until three days before it was scheduled to enter orbit — August 21, 1993 — when controllers lost contact with the spacecraft.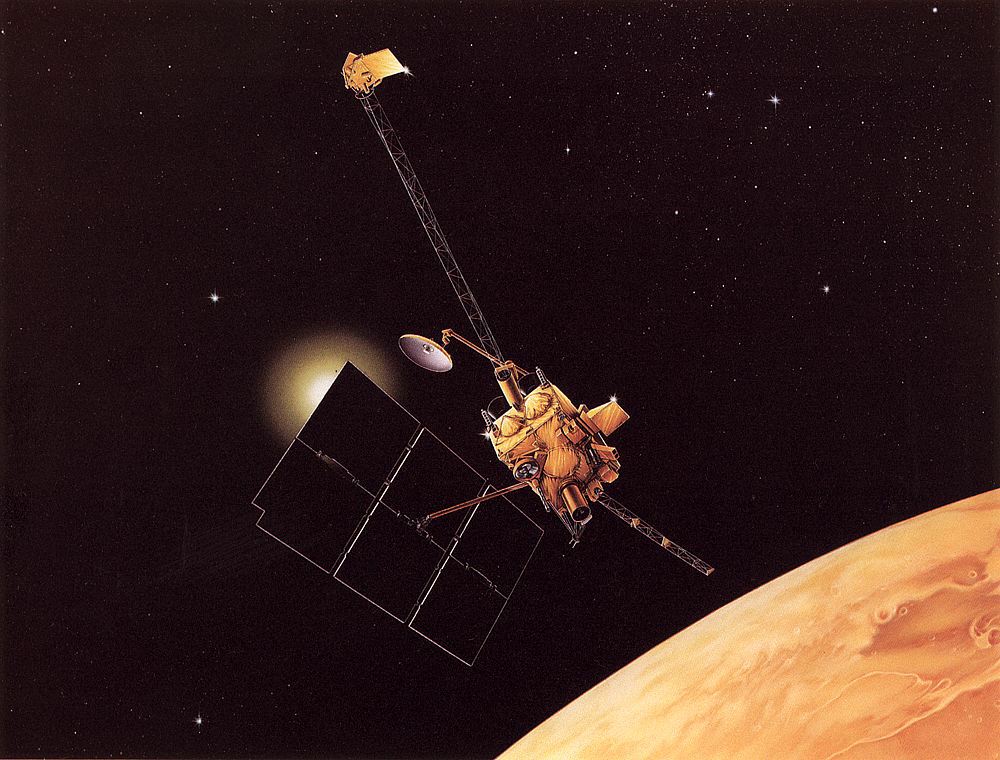 (Mars Observer conceptual painting. NASA image.)
Mars Observer was primarily designed to study the Martian atmosphere, but it never got the chance, and unless we find the spacecraft someday and examine it we only have educated guesses:
It is not known whether the spacecraft was able to follow its automatic programming and go into Mars orbit or if it flew by Mars and is now in a heliocentric orbit. Later investigation concluded the most probable cause of the mishap was a fuel line rupture during fuel tank pressurization which would have caused the spacecraft to spin uncontrollably.
On a much more successful note, on this date 15 years ago — September 25, 1997 — the Space Shuttle Atlantis launched from Kennedy Space Center on a mission to the Mir space station.
STS-86 was the seventh Shuttle-Mir docking mission. Its crew consisted of U.S. astronauts James D. Wetherbee, Michael J. Bloomfield, Scott E. Parazynski, Wendy B. Lawrence, and David A. Wolf; French astronaut Jean-Loup J.M. Chrétien; and Russian cosmonaut Vladimir G. Titov. Wolf replaced Michael Foale aboard Mir, and Foale returned to Earth on Atlantis.





by