Are you a writer, in or near the Research Triangle? Then you're welcome to come to The Writers Coffeehouse this Sunday, 10 March, at 2 p.m.!
The Writers Coffeehouse is a nationwide set of free monthly networking events, originally started in 2002 in Pennsylvania by NYT-bestselling author Jonathan Maberry. As Jonathan says, we're just "a bunch of writers sitting around talking about writing … with coffee."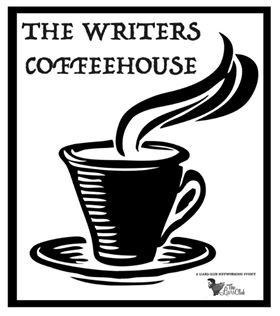 The Research Triangle Writers Coffeehouse meets on the second Sunday of the month at Quail Ridge Books (4209-100 Lassiter Mill Road, Raleigh). All writers — young or old, published or unpublished, struggling or accomplished — are welcome at every meeting. You will have to bring your own coffee (or the beverage of your choice) with you, but there are a couple of places nearby that would love to serve you.
So, one more time: It doesn't matter what you write, where you write, or how much you write, if you're a writer in or near the Research Triangle, you're welcome at The Writers Coffeehouse!
Hope to see you Sunday!
___
Shameless P.S.: As I pointed out in the Facebook group yesterday, if I'm smiling a little more than usual at this month's meeting it's because my novel Walking on the Sea of Clouds was just released as an Audible audiobook.





by