Yes, it's the third Sunday instead of the usual second Sunday of the month, but The Writers Coffeehouse will convene tomorrow at 2 p.m. at Quail Ridge Books (4209-100 Lassiter Mill Road, Raleigh). We slipped the schedule a week so as not to interfere with Mother's Day last Sunday. Note that the unusual day also means an unusual setting: we'll be meeting upstairs instead of in our normal spot.
If you're a writer and you are in the Research Triangle region of North Carolina, you're welcome at our branch of the Writers Coffeehouse — a nationwide set of free monthly networking events, originally started in 2002 in Pennsylvania by NYT-bestselling author Jonathan Maberry. All writers — young or old, published or unpublished, struggling or accomplished — are welcome at every meeting. As Jonathan says, we're just "a bunch of writers sitting around talking about writing … with coffee." (Note that you have to bring your coffee [or the beverage of your choice] with you, but there are a couple of places nearby that are pretty convenient.)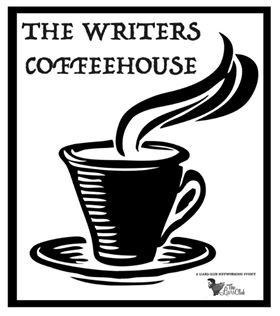 You can learn more about (and join!) our local group at the Research Triangle Writers Coffeehouse Facebook page. But if you're free on Sunday afternoon, we'd love to meet you! (I, however, will have to meet you at the June meeting — I have another commitment tomorrow, but two people were kind enough to step up to moderate the discussion in "tag team" fashion.)
And, rest assured: It doesn't matter what you write, where you write, or how much you write, you're welcome at The Writers Coffeehouse!
___
P.S. In case you missed it, Lost Signals of the Terran Republic, an anthology set in Charles E. Gannon's "Caine Riordan" universe and that includes a short story by yours truly, is available now — order your copy today!
P.P.S. Also in case you missed it, my novel Walking on the Sea of Clouds is available as an Audible audiobook. Check it out!





by