Forty-five years ago today — January 22, 1965 — the Tiros-9 satellite was launched from Cape Canaveral atop a Delta rocket.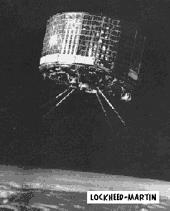 (Tiros satellite. Lockheed Martin image from JPL Mission & Spacecraft Library. Click to enlarge.)
Tiros-9 was the first of the Television Infrared Observation Satellite (TIROS) series to be launched into a polar orbit. Intended for a sun-synchronous orbit, it ended up in a highly elliptical orbit due to a failure in the onboard guidance system. Tiros-9 was also the first meteorological satellite to operate in a "cartwheel" fashion in which the "spacecraft spin axis was maintained normal to the orbital plane" by means of electromagnetic torque between an electrical circuit loop in the vehicle and the earth's magnetic field. Tiros-9 suffered a series of system failures and ultimately retired from service in February 1967.
Ten years after Tiros-9, and on the other side of the continent, Landsat-2 — another remote sensing spacecraft — launched from Vandenberg AFB. Landsat-2 also launched on a Delta rocket. As proof of how much had been learned about spacecraft design in the interim, Landsat-2 remained operational over three times as long as Tiros-9: it retired from service in February 1982.





by