Hey, blogosphere and Facebook folks: YOU can help me fulfill my solemn duty to the Science Fiction & Fantasy Writers of America!
It's "award season," and this will be the first time I'm able to nominate and vote for the Nebula Awards.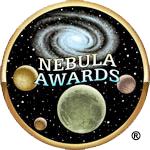 I'm pretty excited about being able to take part in the Nebula voting: It feels good to be able to participate in this professional ritual. Plus, my writing friends Eric James Stone and Rachel Swirsky won Nebulas last year, and I've enjoyed several of the award-winning novels of recent years.
Problem is, I don't get to do a lot of reading for pleasure. I've collected together all of my 2011 issues of Analog, Asimov's, Bull Spec, Realms of Fantasy, etc., to go through them, but I'm also looking for suggestions. What else should I read, in hopes that I'll enjoy it enough to nominate it?
Some of my writing friends have sent me their eligible work,* but if you read — or wrote — a novel or story that was published this year that you think I should consider, let me know about it!
I have until mid-February to submit my nominations, but the sooner I get suggestions the more time I'll have to read the stories.
And if you haven't read any good books or good stories lately, WHY NOT?
___
*And a few of them are also kindly reading my eligible novelette: "Therapeutic Mathematics and the Physics of Curve Balls," from the September Analog.





by