If you like far-ranging science fiction stories set in a remarkably solid universe of adventure and alien encounters, I highly recommend the "Caine Riordan" series by Charles E. Gannon — and not just because I had a part to play in its inception … and show up as a character in some of the novels! 😃
Welcome to the Terran Republic of the Twenty-Second Century. Just as humanity finally reaches out to the stars, it is challenged by several "exosapient" species whose motivations are as unusual as their physical forms. Troubleshooters like Caine Riordan — as well as commandos, crewmen, and correspondents — contend with both humans and aliens during the exploration, statecraft, and warfare that churn and change our post-contact world.
The best place to begin with the series as a whole is at the beginning, with the Nebula Award-nominated and Compton Crook Award-winning Fire With Fire, available on Amazon or directly from Baen Books in the Baen Free Library.
But if you're looking for shorter fiction, there's now an anthology of all-original stories set in the Caine Riordan universe, ready for preorder: Lost Signals of the Terran Republic.
And I have a story in it!
… no world is defined solely by the main characters who occupy center-stage. Lost Signals digs deep into the lives and struggles of those beyond the spotlight. Twenty new voices tell twenty gripping stories that blur the line between fact and fiction in the Consolidated Terran Republic, where high-stakes war and intrigue has played out over four national bestsellers.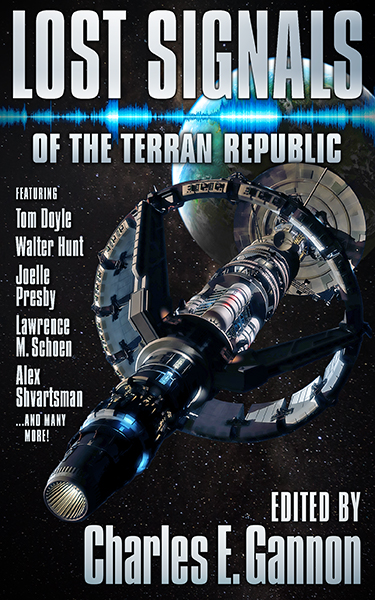 Pretty spiffy cover, eh?
Because it's one of the "earliest" stories chronologically, my entry — entitled "Botwright," as in the person who builds and maintains robots … like a "shipwright" or a "wheelwright," but with robots — comes right after a new story by Charles Gannon himself. My story puts you on an asteroid mining outpost with a socially awkward mechanic who witnesses a murder through the "eyes" of one of the robots he works on.
Mine is a quiet tale, and I tried hard to put you in the head of the main character and give you a realistic sense of his predicament. Here's the opening:
"Uncle Lloyd! Are you in there?"

Lloyd Cramer grinned. Kelly wasn't really his niece; she had started calling him "uncle" back on the Moon almost five years ago. And even though his smile felt distorted, awkward, on his face, Cramer would always smile for her, even when she interrupted him.

Kelianna "Kelly" Forester sailed into his workshop, trailed her fingers along the hatch to bleed off speed, somersaulted, and came to rest against an equipment locker. She was so graceful that Cramer felt clumsy just sitting on his perch.

"Yes, I'm in here," he said. He slipped the wrench he had been using into its slot on his vest.

"I knew, anyway," Kelly said. Her hair fluttered under a multicolored headband. "I checked your prox."

Cramer chanced a look down at Folco. The bot's limbs were paralyzed since he'd used its motive power supplies in other machines, but Cramer noted with satisfaction that its camera telltale was on. It had registered Kelly's proximity implant signal, just as they all did. Or were
supposed to. "If you knew, then why did you ask?"

Kelly laughed, a bright melody that filled the space, and she pushed off the locker.

"Mind the clothesline," Cramer said.

Kelly grabbed the cable-and-alligator-clip rig he had strung across his workshop, and came to rest beside him. She reached up and flicked one of the Mylar streamers that she had made him add for sake of visibility: the slender wire was almost invisible. "You know me," she said, "I'm always careful." She waited a moment for him to reply, but he had nothing to add. She was the mine's safety director; of course she would be careful.

She shimmied a little closer along the clothesline. "Uncle Lloyd, I need a favor…."
I was very pleased to be invited and included in the anthology — with a ton of authors much more talented than I am! — and now that the book is in production I'm glad to let you know that you can preorder it now on Kindle or in paperback. I hope you do, and that you like all the stories!
And if you know any other science fiction fans, I'd appreciate it if you'd send them the link to the book (or just to this blog post) to let them know. Happy reading!





by