Fifty years ago today — October 3, 1962 — Wally M. Schirra blasted off from Cape Canaveral on the third manned orbital* mission of the Mercury program.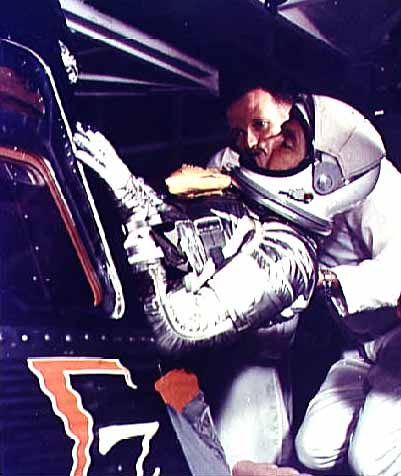 (Entering the Sigma 7 capsule for Mercury/Atlas 8. NASA image.)
The Mercury/Atlas 8 mission consisted of six orbits around the Earth. The spacecraft, named "Sigma 7," had been modified based on feedback from the first two manned missions, including upgrading the control system to allow finer manual control by the astronaut via low-thrust jets, and installing additional antennas to improve communications. The October 3rd launch was the first to be relayed by satellite to the European audience.
Schirra and Sigma 7 splashed down in the Pacific Ocean a little over 9 hours after liftoff, completing what Schirra called a "textbook flight."
___
*The first two flights were sub-orbital. (H/T to David O'Nan for pointing out my error in the original post – GR)





by