Fifty years ago today — March 28, 1963 — the Saturn-Apollo 4 mission was launched from Cape Canaveral.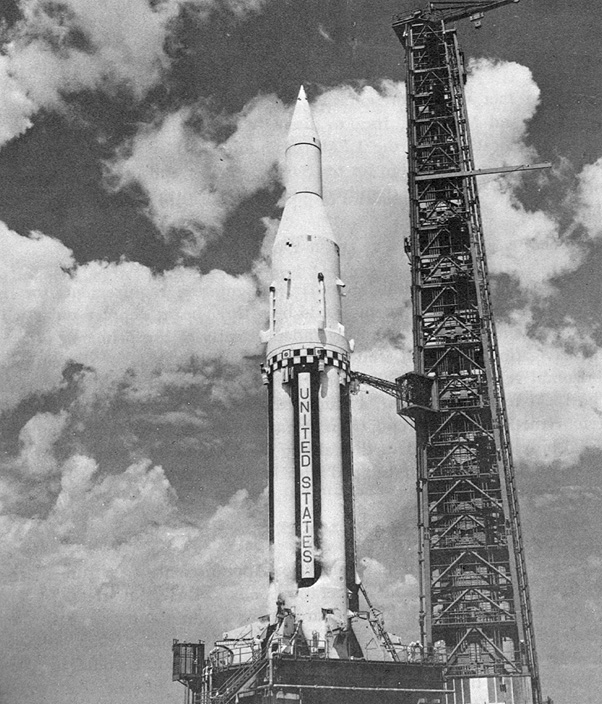 (Saturn SA-4. NASA image.)
Saturn-Apollo (SA) 4, or Apollo SA-4, was the final "Block 1" Saturn test, the last of four test launches of the Saturn rocket's first stage.
The rocket was launched on a sub-orbital flight to an altitude of 129 km and a peak velocity of 5906 km/hr. After 100 seconds of flight, a pre-set timer cut off engine no. 5 as planned to test the "engine-out" capability of the booster. Fuel was successfully routed to the other seven engines and the flight continued.
Also on this date in space history, 30 years ago, the first of an advanced series of remote-sensing spacecraft, NOAA 8, launched into a polar orbit atop an Atlas E rocket out of Vandenberg AFB. Unfortunately, the satellite did not live out its two-year planned operational life: it failed in June 1984.
Finally, 10 years ago today — March 28, 2003 — Japan launched a pair of reconnaissance satellites, IGS (Information Gathering Satellite) 1A and IGS 1B, from Tanegashima Space Center on an H-2A rocket. According to the National Space Science Data Center, "One of the two spacecraft uses optical cameras with a resolution of one meter; the other uses synthetic aperture radar to provide images at a resolution of a few meters," but it is unclear which satellite carried which sensor.





by