And some of them just made the short list for the Nebula Awards!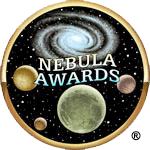 Here's the full list, with my friends marked in bold:
BEST NOVEL
We Are All Completely Beside Ourselves, Karen Joy Fowler (Marian Wood)
The Ocean at the End of the Lane, Neil Gaiman (Morrow; Headline Review)
Fire with Fire, Charles E. Gannon (Baen) — I'm particularly pleased that this was nominated, for reasons that may or may not be obvious
Hild, Nicola Griffith (Farrar, Straus and Giroux)
Ancillary Justice, Ann Leckie (Orbit US; Orbit UK)
The Red: First Light, Linda Nagata (Mythic Island)
A Stranger in Olondria, Sofia Samatar (Small Beer)
The Golem and the Jinni, Helene Wecker (Harper)
BEST NOVELLA
"Wakulla Springs," Andy Duncan & Ellen Klages (Tor.com 10/2/13)
"The Weight of the Sunrise," Vylar Kaftan (Asimov's 2/13)
"Annabel Lee," Nancy Kress (New Under the Sun)
"Burning Girls," Veronica Schanoes (Tor.com 6/19/13)
"Trial of the Century," Lawrence M. Schoen (lawrencemschoen.com, 8/13; World Jumping)
"Six-Gun Snow White," Catherynne M. Valente (Subterranean)
BEST NOVELETTE
"Paranormal Romance," Christopher Barzak (Lightspeed 6/13)
"The Waiting Stars," Aliette de Bodard (The Other Half of the Sky)
"They Shall Salt the Earth with Seeds of Glass," Alaya Dawn Johnson (Asimov's 1/13)
"Pearl Rehabilitative Colony for Ungrateful Daughters," Henry Lien (Asimov's 12/13)
"The Litigation Master and the Monkey King," Ken Liu (Lightspeed 8/13)
"In Joy, Knowing the Abyss Behind," Sarah Pinsker (Strange Horizons 7/1 – 7/8/13)
BEST SHORT STORY
"The Sounds of Old Earth," Matthew Kressel (Lightspeed 1/13)
"Selkie Stories Are for Losers," Sofia Samatar (Strange Horizons 1/7/13)
"Selected Program Notes from the Retrospective Exhibition of Theresa Rosenberg Latimer," Kenneth Schneyer (Clockwork Phoenix 4)
"If You Were a Dinosaur, My Love," Rachel Swirsky (Apex 3/13)
"Alive, Alive Oh," Sylvia Spruck Wrigley (Lightspeed 6/13)
RAY BRADBURY AWARD FOR OUTSTANDING DRAMATIC PRESENTATION
Doctor Who: "The Day of the Doctor" (Nick Hurran, director; Steven Moffat, writer) (BBC Wales)
Europa Report (Sebastián Cordero, director; Philip Gelatt, writer) (Start Motion Pictures)
Gravity (Alfonso Cuarón, director; Alfonso Cuarón & Jonás Cuarón, writers) (Warner Bros.)
Her (Spike Jonze, director; Spike Jonze, writer) (Warner Bros.)
The Hunger Games: Catching Fire (Francis Lawrence, director; Simon Beaufoy & Michael deBruyn, writers) (Lionsgate)
Pacific Rim (Guillermo del Toro, director; Travis Beacham & Guillermo del Toro, writers) (Warner Bros.)
ANDRE NORTON AWARD FOR YOUNG ADULT SCIENCE FICTION AND FANTASY
The Coldest Girl in Coldtown, Holly Black (Little, Brown; Indigo)
When We Wake, Karen Healey (Allen & Unwin; Little, Brown)
Sister Mine, Nalo Hopkinson (Grand Central)
The Summer Prince, Alaya Dawn Johnson (Levine)
Hero, Alethea Kontis (Harcourt)
September Girls, Bennett Madison (Harper Teen)
A Corner of White, Jaclyn Moriarty (Levine)
DAMON KNIGHT GRAND MASTER AWARD: Samuel R. Delany
SPECIAL GUEST: Frank M. Robinson
___
I admit to some disappointment that other folks I nominated did not make the list, but with the exception of the dramatic works and the individual categories, I have at least one friend who is a finalist for each category. I think that's pretty cool!
Or, at least, I think my friends are pretty cool …





by