We haven't really gone "a-viking" to another world (yet), but 35 years ago today — August 20, 1975 — we did launch the Viking-1 mission from Cape Canaveral. Viking-2 was launched a few weeks later, on September 9th.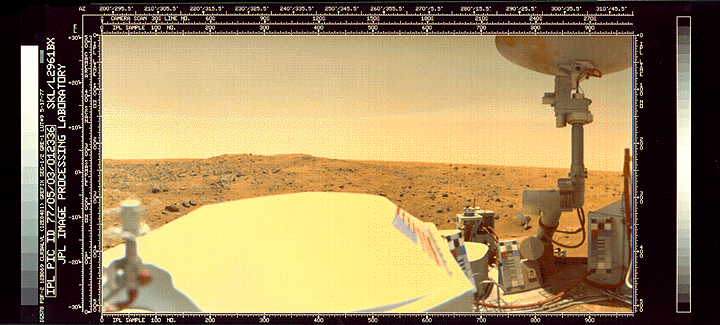 (Viking-1 image of Chryse Planitia, looking northwest over the lander's radioisotope thermal generator (RTG) cover. NASA image, August 30, 1976.)
Launched by Titan-IIIE boosters, the Viking missions each consisted of a lander and an orbiter. In addition to cameras that returned stunning images of the Martian landscape, the Viking landers carried instruments to study the Martian surface in terms of biology, chemical composition, meteorology, seismology, and other properties.
Viking-1 entered Mars orbit on June 19, 1976. The orbiter and lander orbited Mars together for a month while the orbiter took images which NASA used to select a landing site. The lander and orbiter separated and the lander descended to the surface on July 20th.
Other than the failure of the seismometer and difficulty with a stuck locking pin on the sampler arm, all of the experiments on the Viking-1 lander performed well. The lander "was named the Thomas Mutch Memorial Station in January 1982 in honor of the leader of the Viking imaging team." Contact with Viking-1 was lost on November 13, 1982.





by