Forty years ago today — December 2, 1971 — the Soviet Mars-3 lander made the first successful soft landing on the Red Planet.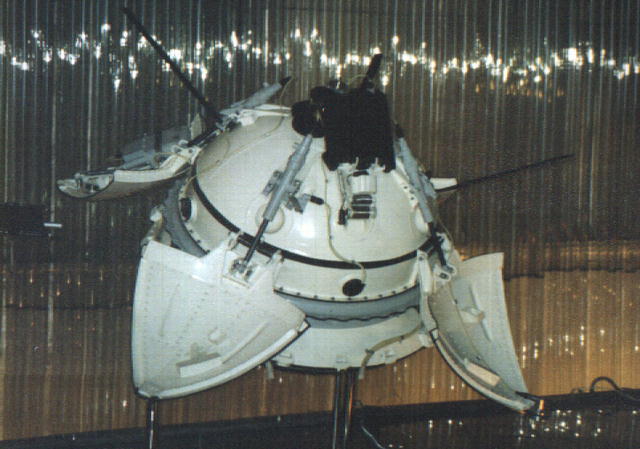 (Mars-3 lander model at the Memorial Museum of Cosmonautics in Russia. Image from the National Space Science Data Center.)
Mars-3 had been launched on May 28th (see this space history blog entry), hot on the heels of Mars-2. When Mars-3 landed, Mars-2 had already become the first manmade object to reach the Martian surface.
Mars-3's landing, in contrast to Mars-2's, went smoothly. Once the petals opened and it began transmitting, however,
After 20 seconds, at 13:52:25, transmission stopped for unknown reasons and no further signals were received at Earth from the martian surface. It is not known whether the fault originated with the lander or the communications relay on the orbiter. A partial panoramic image returned showed no detail and a very low illumination of 50 lux. The cause of the failure may have been related to the extremely powerful martian dust storm taking place at the time which may have induced a coronal discharge, damaging the communications system. The dust storm would also explain the poor image lighting.





by