The fourth installment in our discontinuous series of "blog tour" posts featuring fellow members of the Codex Writers online community.
Today our guest is Gareth D. Jones, editor of The Immersion Book of Steampunk — an anthology of original stories due out in April from UK-based independent publisher Immersion Press. The Immersion Book of Steampunk covers the whole spectrum of steampunk from science fiction to fantasy, adventure to romance. Contributors to the anthology include veteran author Paul Di Filipo and steampunk authority GD Falksen.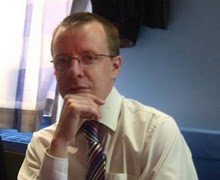 (Gareth D. Jones. Courtesy of his Blogger profile. Click to enlarge.)
Gareth D. Jones is an environmental scientist from the UK who also writes stories and drinks lots of tea. His stories have appeared in 40 publications and 20 languages. He has recently completed his second novel and is also working on comic scripts and screenplays.
We appreciate Gareth taking time out to give us some insight into what it took to turn this anthology into reality.
___
How long was it between first conceiving The Immersion Book of Steampunk and getting down to work on it?
I've discovered over the past year that a lot of publishing opportunities are a result of serendipity as well as inspiration. I'll fill you in on some related history that leads to how I ended up working on The Immersion Book of Steampunk. It's a long and waffly story, I must warn you.
When my first story saw print in a UK small press magazine, I was most disappointed to find that nobody reviewed the magazine. I decided to rectify this by starting to review as many UK-based print and electronic 'zines as I could, and later anthologies, which appeared on several different reviewing websites, most recently SF Crowsnest. I came in contact with several editors and publishers by doing this and later posted interviews with many of them on my website.
When I had an idea for a different anthology, I emailed a small press publisher to ask what he thought. He liked the concept and said he'd like to publish it if I edited it. This led to momentary panic as I had no idea where to start. That project has been put aside for a while but is still under development.
When I attended EasterCon, the British national SF convention, in April 2010, I met up with that publisher and several other editors and publishers. These meetings led to my 4th pro story sale, and I was offered the editorship of a new pro webzine and also asked to edit The Best of Murky Depths, which is due out soon. I also met Carmelo Rafala, whose name I recognized from Jupiter magazine, where several of my stories have appeared. Carmelo was launching the first title from Immersion Press, a new independent press. Soon afterwards, Carmelo asked me to edit The Immersion Book of Steampunk. After I'd bombarded Carmelo with numerous questions, I got stuck straight in to working on the anthology.
The Immersion Book of Steampunk is due to be released in just a few weeks, and as an anthology it went through a much different genesis than a novel. How did the stages of the project progress?
I love a bit of steampunk, but I'm not a great authority on the subject, so the first stage was to do some research, find out who are the hot names in steampunk, who are up-and-coming and which authors I've enjoyed recently also write steampunk. I wanted to include some well-known names, but the idea behind Immersion Press is also to showcase newer writers.
It's an invitation-only anthology and I started sending out invites in June 2010. It's difficult to know how many to invite, not knowing how long the stories are going to be, or how many will sign up. A couple had to pull out due to other commitments, but I had such a great list of possibilities that I had no trouble filling my quota and could easily have filled a much fatter volume. I had all the stories by my deadline of December, and edited each as it arrived, sending them back to the authors for approval and then proof-reading again. I collected bios from the authors and then struggled over my intro, handing the whole package over to Immersion Press by the end of the year.
What major obstacle did you have to overcome while working on The Immersion Book of Steampunk?
Too much choice of great authors.
What was the biggest surprise you got out of working on The Immersion Book of Steampunk? Is there anything in particular you hope your readers get out of the finished work?
What impressed me was that authors not only submitted stories for the anthology, but that most of them were written specifically for the anthology. I felt honoured to be the first to read these stories from authors across the globe. I also had the privilege of 'discovering' a new author and buying his very first published story.
I'm hoping that readers will enjoy the stories as much as I have, that they will appreciate the sense of fun and adventure in the broad variety of stories I've collected.
You mentioned the privilege of 'discovering' a new author. How did that work, since this was an invitation-only anthology? Is this another case of serendipity as well as inspiration?
Meanwhile I'd joined the Critters online writing workshop. Anatoly Belilovski had several short steampunk stories to be critted, so I sent my crit back with an invitation to submit the final version. It wasn't until I'd accepted it that I found it this will be his first published story.
What did you learn from The Immersion Book of Steampunk that you're applying (or will apply) to your next projects?
I've learned all of the questions that I need to ask of the publisher before I start, rather than randomly thinking of them throughout the project. I've gained much more confidence in editing too, and in approaching authors to start with. Everyone I corresponded with, even those who turned me down, which included multiple-best-selling-novelists, were very supportive.
I mentioned The Best of Murky Depths, which is a reprint e-anthology containing my choice of prose and graphic stories from the first 3 years of the fabulous Murky Depths magazine. I wrapped that up at almost the same time and it should be out soon. I've just finished my second novel too, so I'm now planning to get back to my original anthology idea, now that I have a much better idea of how to go about it. I also have great plans for a TV pilot screenplay and the outline for a series, and a graphic novel.
___
It sounds as if Gareth has more than enough to keep him busy, and we wish him the best of luck with all his projects!
For more information on Gareth D. Jones and The Immersion Book of Steampunk, visit his web site at http://www.garethdjones.co.uk/.





by