Fifteen years ago today — August 17, 1996 — the Japanese launched the first of a series of environmental remote sensing satellites, and the Russians launched a mission to Mir that included the first female French astronaut.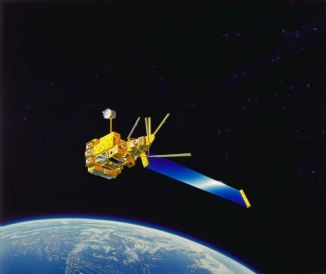 (Artist's conception of ADEOS spacecraft. JAXA image.)
ADEOS, which was later renamed "Midori," was the ADvanced Earth Observation Satellite and was launched from Tanegashima Space Center on an H-2 rocket. The spacecraft operated until mid-1997, measuring winds, ocean surfaces temperature, atmospheric aerosols, ozone, and greenhouse gases. You can read more about the first ADEOS/Midori spacecraft on this JAXA page.
And Soyuz TM-24 launched from the Baikonur Cosmodrome atop a Soyuz-U launch vehicle, bound for the Mir space station. Russian cosmonauts Valery G. Korzun and Alexander Y. Kaleri flew on this mission with Claudie Andre-Deshays, the first French woman in space.





by