I don't want to let 2017 close out without one last look at some of the press about my signature accomplishment of the year: my novel, Walking On The Sea of Clouds.
Readers have called it:
"Faithful and gritty"
"Amazingly authentic"
"Meat and potatoes for the hard science fiction fan"
"As entertaining as some of Heinlein's early fiction"
"Much like The Martian"
Not too shabby.
If you've read it, thank you very much! If you'd like to, or know someone else who might enjoy it, you can get your local bookseller to order it for you or you can buy it on Amazon or from other online sources including Baen e-books.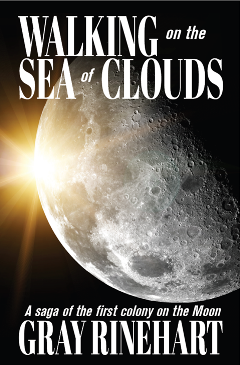 A novel of survival and sacrifice among lunar pioneers. (Click for larger image.)
The novel was, without a doubt, the "big event" of 2017 for me. I hope you had a good year, and that 2018 will be even better — for all of us!





by