I debuted a song last night in the first RavenCon "open filking" session that illustrates that my slapdash approach to songwriting is often more slap than dash. (I don't know if that makes sense, but I didn't get much sleep so it's all I've got.)
Anyway, with this particular song I've been having trouble with the transition from the chorus back to the verse — thinking it was a key issue, because keys are a thing that songs have but I don't know much about (being pretty much theory-less when it comes to music). But then I played through it a couple of times by myself — here's the chorus, if you're interested —
Tommy's up for fighting, Tommy's up for risks
Never shies away from danger, or putting up his fists
So pick up your shillelaghs, boys, and bring 'em to the fight
'Cause Tommy's going to make a lot of noise in the spaceport pub tonight
— and I finally tried to count out the beat … and discovered that while the chorus is in 4/4 time the verses are actually in 6/8.
Did I do that? Apparently I did, and now I have to finagle my way out of (or around) it.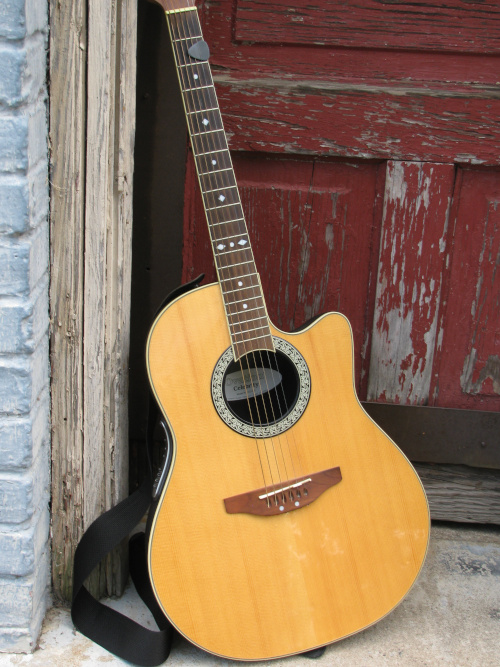 (Photo by Christopher Rinehart.)
I imagine other songwriters — those who have some amount of musical knowledge — think rather deliberately about things like keys and time signatures when they begin writing a song. Or, if not, then I imagine they figure that sort of thing out fairly early in the process. But not me! Me? I just do this for fun!
And it usually is fun. That chorus is fun (do you like it?). And the process itself can be fun, until I write myself into a proverbial corner and have to figure out how to cut my way through the wall. Not that demolition isn't fun, because it can be … it's just usually pretty messy.
Anyway, that's one of the hazards of haphazard songwriting: having to figure out weird transitions and things. But, at least it's fun!
___
Reminder for anyone who missed the announcement, but I'm still running a series of giveaways for Audible downloads of the Walking on the Sea of Clouds audiobook. The next drawing is Monday, so sign up at this link!





by